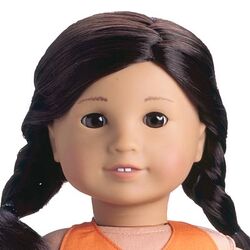 The Jess McConnell doll was released in 2006 and available for only one year before retirement. She is considered the Girl of the Year for 2006.
Skin: Light
Brows: Feathered
Hair: Dark Brown with Red highlights, left side zig-zag part and no bangs
Jess's hair came in two loose braids.
Meet Outfit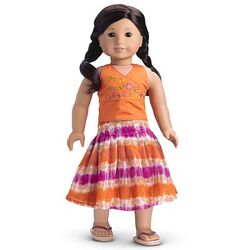 Jess's meet outfit is intended to simulate a travel outfit for a warm Central American climate.
Top
Orange halter top with pink, yellow, and green flower embroidery on the front. Velcros in the back.
Skirt
Orange, tan, white and pink tye-dye print broomstick skirt.
Sandals
Brown thong sandals with a natural braided bottom & red braided straps. The sandals have clear elastic straps to help keep them on a doll's feet.
Underwear
White underwear with orange trim and a butterfly on the hip.
The girls' version of Jess's outfit was available.
Halter Top: $26
Skirt: $36
Trivia
Jess was the first Girl of the Year to have pajamas in her collection.
Gwen Thompson's sandals are exactly the same as Jess's, except her braided straps are pink.
Jess was the first Girl of the Year to have a unique face mold.
See Also