Jurassic World: Dominion Dominates Fandom Wikis - The Loop
Play Sound
"Jess" redirects here. For the doll, see Jess McConnell (doll). For the book, see Jess.
Jess McConnell is the fourth Girl of the Year. She was released in 2006.
Personality and Facts
Jess Akiko McConnell is the ten-year-old daughter of two archaeologists from Michigan. Her father is of Irish and Scottish descent and her mother is of Japanese descent, although both sides of the family have lived in the USA for several generations. She is the "baby" of the family.
In her book, she goes to Belize on a dig with her parents. She is uninterested in the actual archaeological work, although she likes to learn about and imagine the lives of the Mayan people whose artifacts her parents are studying. Jess is in fourth grade--she is home schooled on the trip to Belize and was not expected to go.[2] She sends her assignments to her teacher via a laptop. She studies the guitar and loves to play soccer. She initially spends the book making lists and journal entries about her time in Belize, but later is caught in an archaeological exploration.
Her best friend in Belize is a girl named Sarita Bol, who is of Mayan descent. She and Sarita take an eco-tour of Belize together, foster a baby parrot they name Pippi, and stumble on a historical treasure underground. Jess likes animals as well as playing soccer; in her book, she states that she may want to be a professional soccer player when she grows up. She also suggests being a professional snowboarder when she grows up. Jess is described as energetic and adventurous.
Book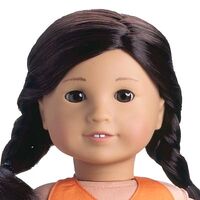 Collection
See: Jess's Collection
Trivia
Jess is the first explicitly biracial character, with a Japanese mother and Scotch-Irish father. She was followed by Kanani Akina.
Jess was the first Girl of the Year to have an official middle name, later followed by Chrissa Maxwell and Joss Kendrick.
Jess was the first Girl of the Year to introduce a new face mold to the brand, with the second being Joss Kendrick. (While Sonali Matthews also introduced the Sonali mold, she is considered a companion character.)
Jess was the first Girl of the Year to explicitly carry the label of "Girl of the Year."
Jess was the first character whose story didn't primarily take place in the United States (or a location that will later be part of the United States) as Belize is in Central America. This was followed by Kira Bailey, whose stories predominantly take place in Australia. Grace Thomas goes to France for one book, but the rest of her books are set in the US; Lea Clark also goes to Brazil, but her last book is in the US.
See Also
References and Footnotes