Jenny O'Malley is the youngest sister of Nellie O'Malley and the adopted sister of Samantha Parkington.
Personality and Facts
Jenny is the youngest of the three O'Malley sisters. She is six in Samantha Learns a Lesson and has a high, flutey voice and blue eyes. Jenny has a beloved doll named Louisa-Jane and greatly loves stories, especially fairy tales.
Unlike Nellie, she and Bridget are easily adjusting to their new life with the Gardeners; this is most likely due to their age. However, she does miss her parents and cries in her sleep about them. She and Bridget have a private tutor after being adopted, rather than attending school.
In the Books
Nellie tells Samantha about the day Jenny was born, though Jenny is not expressly named.
Jenny's family is hired to work for the Van Sicklens; she does not have a formal job, so is allowed to attend school. Jenny's first appearance is when Samantha walks Nellie, Bridget, and her to Mount Bedford Public School. Jenny and Bridget are placed in first grade together. Jenny says she has her own desk and books that first day.
Nellie's letter to Samantha says that Jenny was the only one of them who didn't get the flu that December. After the death of their parents, the O'Malley sisters are sent to live with their Uncle Mike in New York City and, after being abandoned, are taken to Coldrock House. Jenny and Bridget are separated from Nellie and put in the younger girls' dormitory. During a visit, they both giggle when Gardner makes fun with them, but are quickly corrected by Mrs. Frouchy.
Samantha helps the O'Malley sisters escape to prevent their separation when Nellie might be put on the orphan train, and Jenny holds Samantha's hand on the walk to the Edwards' house. She and Bridget immediately start playing with the paper dolls in the room, and then she asks Nellie if they have to go back to Coldrock House and if they don't does that mean they're not orphans anymore.
She and Bridget must stay in the attic during the day while Nellie sneaks out for work and they mostly nap, whisper together, and play with paper dolls. Both girls love to hear about Samantha's tales of the day and Jenny calls Cornelia and Gard the finest lady and gentleman in New York City.
When the girls are caught and brought down, they all are bathed and sleep in Samantha's room. The next day--Valentine's Day--Gardner says that they need more girls there in three sizes, and calls Jenny "tiny." All three girls hug and shower Gardner with kisses.
Jenny is first seen with Bridget being read to by Gardner, begging for more of the story while sitting in his chair. She has adjusted well to their new well-to-do life. When Nellie tells her and Bridget to go get ready for bed, they both protest and beg Gardner not to go. Cornelia is the one that reminds Nellie that she does not have to bathe the girls, as Gertrude can take them for their bath. She and Bridget hide their faces against Gardner when Gertrude comes to take them to bathe, but is persuaded with a story from Samantha.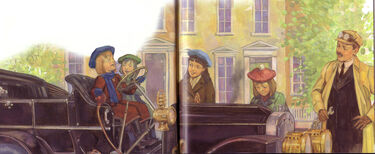 At the settlement house, Mrs. VanVorst says she misses Jenny and Bridget and their love of stories. After being disturbed by the conditions at the settlement house, Samantha is even more doting on her, placing her napkin back in her lap lovingly. That night, when a storm scares her and Bridget, they run into Samantha and Nellie's room and insist on sleeping in their bed that night.
When Gardner suggests a motorcar ride, Jenny is eager to go. When the car won't start, she and Bridget get restless and climb up front to pretend to drive, making a lot of noise. She and Bridget bounce so much the car rattles; they stop when Nellie tells them to, but start back up. When Bridget honks the horn by mistake she and Jenny start laughing. Nellie scolds them and Jenny says she's no fun. Samantha persuades the girls to go inside while Nellie and Gardner tinker with the car. Gardner calls them the "gleesome threesome" and Nellie feels left out. She continues to feel distant from her sisters for most of the remainder of the book.
Bridget, Jenny, and Nellie are all adopted by the Edwards.
When the family is trying to leave, Jenny hides behind a chair, afraid that she will never come back. Samantha and Nellie cheer her up, and she goes to Uncle Gard's car and sits next to Bridget. Jenny, Bridget, and Nellie ride an elevator for the first time. Jenny and Bridget catch chicken pox. Jenny has trouble sleeping in the hotel and Nellie has to sing to her to get her to sleep.
Jenny and Bridget are at the dock when Nellie and Samantha depart with Grandmary and Admiral Beemis. Nellie is crying and Samantha says they'll be fine since Aunt Cornelia will take them to the Wild West show and Gardner will take them skating in Central Park.
Jenny, Bridget, Nellie, and Samantha arrive at Piney Point by the ferry.
Bridget, Nellie, and Jenny are first seen heading into the Ryland home. They are all there to help with the housework. Later when their father dies, she and Bridget are sent to the Cold Rock Orphanage and separated from Nellie.
In the movie, Jenny is a selective mute who has refused to speak to anyone since her mother died, likely out of emotional trauma. Even when she must go and get Samantha to attend to a gravely ill Bridget, she only uses gestures. At the end of the movie, Jenny speaks for the first time on screen after Gardner asks if she and her sisters want to be adopted, to which she says enthusiastically "Jenny says yes, sir!"
Jenny is played by Olivia Ballantyne.
Trivia
In the original illustrations by Nancy Niles and Luann Roberts, both Bridget and Jenny were illustrated with blonde hair. After the new illustrations by Dan Andreasen gave one sister blonde hair and one sister dark hair, there was some confusion about which sister was which, with different books giving conflicting information. Nellie's Promise clarified that Bridget has blonde hair and Jenny has dark hair.
Bridget and Jenny also appear as characters in Samantha's Mystery Party Game.