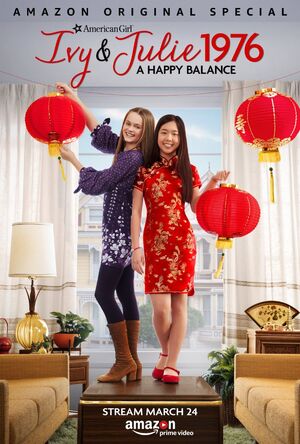 Ivy and Julie 1976: A Happy Balance is a BeForever film focusing on Julie Albright and Ivy Ling.
Cast
Nina Lu as Ivy Ling
Hannah Nordberg as Julie Albright
Lance Lim as Andrew Ling
Rob Yang as Sam Ling
Gwendoline Yeo as Marilyn Ling
Elizabeth Sung as Po-Po
Tzi Ma as Gung-Gung
Kyra Lyn as Missy Ling
Karen Huie as Auntie Yin We
Zane Smith as Cathy
Caitlin Mc Gee as Coach Gloria
Crew
Plot
Digital Release
The movie was released on Amazon Prime Video on March 24, 2017.
Items Associated With the Movie
Links
References
Community content is available under
CC-BY-SA
unless otherwise noted.