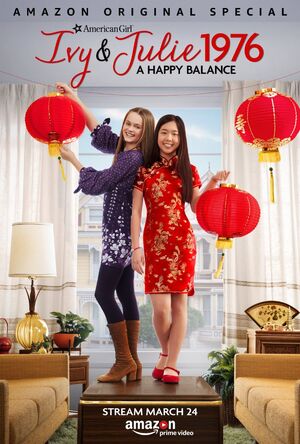 Ivy and Julie 1976: A Happy Balance is a BeForever film focusing on Julie Albright and Ivy Ling. It was released in 2017.
Cast
Crew
Sasie Sealy: Director
May Chan: Writer
Danny Lux: Music
Plot
The film begins in Ivy's bedroom as she lays out tape on the floor to practice her balance beam routine. Her sister Missy rushes in, because they share a room. Ivy's mother, Mrs. Ling, comes in and reminds Ivy to attend Chinese school. Ivy complains because it's a Saturday and her friends like Julie don't have to attend Saturday school. She offers to Mrs. Ling insists that she attend and reframes it as an opportunity: not all kids have the chance to learn Chinese. As Ivy is preparing to leave, she pulls her gymnastics leotard off her chair and tears a small hole in it in the process. Mrs. Ling promises to fix it by her next competition. She also reminds Ivy that after school, the family will be cleaning the house as preparation for Chinese New Year. It's traditional to clean the house before the holiday. This year, they will be celebrating with extended family for the first time. Then Ivy's brother, Andrew, stops by the door and the two siblings run to their Chinese class in the middle of Chinatown.
The two kids sit in the last row of the classroom. Ivy greets their teacher in English, but Mrs. Lu doesn't respond. Andrew greets her in Chinese, and she turns around and responds. Both kids take workbooks out of their bags and get to work. However, Ivy snuck a gymnastics magazine in between the pages, and instead of doing the exercises, she looks at the magazine. She bounces up as soon as the bell rings at the end of class and stuffs her books into her bag. Andrew berates her in Chinese, and she tells him, "Andrew, class is over." He reminds her that Mrs. Lu said that they needed to speak the language all the time in order to become fluent.
Julie walks up to the classroom door and greets Ivy; she has returned to her dad's house for the weekend. As the group walks home, Andrew reminds Ivy that their mom wants to clean the entire house this weekend for the upcoming Lunar New Year celebrations. Ivy brushes him off and says she'll return in ten minutes, and he leaves after she and Julie tease him. She compliments Julie's denim bag, which was designed by Mrs. Albright for her store. Ivy promises to buy a bag with her Chinese New Year money. Julie excitedly tells her that they received their invite to the Ling family's Chinese New Year dinner, and she, her mother, and Tracy will be attending. She's looking forward to it because they haven't done anything as a family in a while. Julie suggests they go to Washington Square Park or listen to records in her room, but when Ivy mentions cleaning the house, Julie offers to help. Mr. Albright had to cover a flight and isn't home.
The Lings greet Julie when she and Ivy come in the house. Mrs. Ling asks how Tracy and the family are doing; Julie responds that it's hard adjusting to the divorce and living in two houses. Mrs. Ling comments that it takes time to adjust to change. The girls start with cleaning Ivy and Missy's room, where Ivy explains the tradition of sweeping out the bad luck and sweeping in the good luck for the coming year. She's frustrated that she has to cut her hair, and she envies Julie because her mom lets her grow her hair long like Marcia Brady. Julie tries to cheer her friend up by looking through some magazines for a new style that works for her, but Ivy gets frustrated and comments, "none of these people look like me."
Julie compliments Ivy on her new red Chinese New Year dress. Ivy dismisses it, saying her mom bought it for her, and then pivots back to gymnastics. Julie says she'll be at the all-city gymnastics meet until Ivy says it's on January 30. Julie tells her that it's the night of the Ling family dinner. Ivy exclaims, "I hate this holiday" and she wishes it were like "regular" New Year on January 1 every year, rather than Lunar New Year, which changes each year. Julie suggests she ask her family to make an exception, but Ivy insists they won't understand. Mrs. Ling interrupts to ask if Julie's staying for dinner, and after she leaves, Ivy grumbles, "it's going to be rice or noodles again." Julie asks when she'll tell her parents about the gymnastics conflict.
The scene cuts to Ivy at gymnastics practice, where she falls from the balance beam. Coach Gloria insists she practice some basics before continuing, because Ivy is hesitating on the beam, and she doesn't want her to get injured. She'd fallen at their last meet. Coach Gloria wants her to practice on the floor and then on the low beam before working up to the high beam again. Ivy protests but follows the direction anyway. When practice is finished, their coach reminds them that their tournament is in two weeks. Ivy chats with another gymnast and realizes that she doesn't have a towel or water in her backpack. When Mrs. Ling arrives, Ivy is frustrated that she didn't pack them, even though her mother was going from law school to other errands.
Coach Gloria announces they will have a mandatory new practice on Saturdays leading up to the tournament. Mrs. Ling asks if there's a chance they could move it, because Ivy has Chinese school. Other girls whisper, "what's Chinese school?" Coach Gloria says Ivy will just have to work harder on the days she's able to attend. As Mrs. Ling leaves, she speaks in Chinese to Ivy, who's embarrassed and shushes her mom.
Ivy and Julie talk on the phone and listen to music from Julie's records. Ivy knows that the song playing is one Julie uses to cheer herself up, so she asks her friend what's wrong. Julie explains that her dad is coming to the New Year dinner as well, and she's worried because the last time her family was together, her sister yelled at her father and stormed out of their Christmas dinner. Ivy suggests it could be a good chance to break the ice and help resolve differences, and Julie feels better by the end of the conversation.
After their phone talk, Ivy walks into her dining room for dinner, where she complains, "Chinese food again?" It's food from her grandparents' restaurant. When she turns around, Gung Gung and Po Po are standing in the door, saying goodbye. After they leave, Mrs. Ling insists Ivy will apologize to her grandparents later, and she begins talking about how her uncle will be flying in the morning of Chinese New Year. Ivy tries to divert the conversation away from the topic and asks Andrew about his kung fun practice. Andrew sarcastically replies that they'll be eating Chinese food at their New Year's dinner and asks if Ivy will be okay with that. Mr. Ling excuses himself to answer the phone, and when he returns, he says it was the Bay Street Youth Center, asking how many tickets the family wanted for the gymnastics tournament on January 30. The Lings stare at Ivy in stony silence. She insists that she was going to tell them, and reminds them that they let Andrew miss Ana Yee's wedding for a kung-fu tournament. Mrs. Ling cuts her off and says she and Mr. Ling will talk about this later.
After dinner, Mr. and Mrs. Ling discuss the situation as they clean up. Mr. Ling insists Ivy should be there because so many family members have rearranged their schedules and bought plane tickets to be together for this event. Mrs. Ling comments, "Ivy just doesn't realize how important a family is." She mentions that she wouldn't be able to get through law school if her parents weren't helping them out. However, she thinks that if they force Ivy to attend, she'll sulk and be resentful- she wants Ivy to want to attend the dinner. They tell Ivy that they will let her decide, and they believe she is mature enough to make the right decision. Ivy responds that she needs to think about it, and she glances up at her closer door, where her leotard hangs next to her red New Year dress.
At Ivy's next gymnastics practice, she performs better on the low beam but still struggles on certain skills. Coach Gloria encourages her and gives her advice, and she also tells Ivy not to worry about attending the practice, because she knows she has family obligations. The next day on their way to Chinese school, Ivy tries to sneak off, but Andrew catches her. She pleads for him not to tell their parents and asks if he would feel the same way if he had a big kung-fu tournament. Andrew ultimately sighs and shrugs it off, saying he doesn't want to be involved, but he turns his back and walks away.
Ivy performs well at her practice and Julie meets her when she's done. Ivy realizes that if she isn't attending her family dinner, Julie and her family won't either, and they'll miss the opportunity for Tracy and Mr. Albright to reconcile. Julie shrugs it off and tells Ivy not to worry about it. When Ivy returns home, Mrs. Ling is working on law school homework with books spread around her. She knows Ivy missed Chinese school because their teacher called, and Ivy must clean their grandparents' restaurant on Sunday as punishment. Ivy says, "Mom, I'm sorry I lied, but gymnastics is important to me." She insists she'll attend Chinese school again the following weekend. Mrs. Ling explains that if their team wins all-city, then they'll compete in regionals, and there will be more extra Saturday practices. She brings up their neighbors, the Wu family, whose children don't speak any Mandarin or Cantonese. Mrs. Ling says, "They try so hard to be American that they forget they're Chinese... Our culture is important in this family." Ivy again says she'll go back to Chinese school next week, then leaves in a huff to talk to Ivy, shutting the door in Missy's face as she goes.
Ivy complains that her family doesn't understand how important gymnastics is to her. Julie says it's Ivy's signature skill that makes her stand out from her siblings- Andrew has good grades, and Missy is a cute baby. Ivy notices that her mother hasn't fixed her competition leotard yet, so she tries to get the sewing kit to fix it. Mrs. Ling insists she do her homework first, so Ivy uses a flashlight to sew the hole closed at night, under her sheets. She then steps out into the hallway, where she overhears her parents. Her father returns home from work as a security officer while Mrs. Ling is up late doing law school homework. They discuss the dinner menu and the fact that Ivy skipped Chinese school that day. Mr. Ling says they'll never have time to cook all the food Mrs. Ling has on the menu. Her parents offered to help, but she feels bad asking for their assistance since they already do so much for the family. She wants the dinner to be a thank you to her parents. They talk about which foods to skip, and Mrs. Ling says to skip making her favorite food, ningo, because none of the kids like it. She comments, "If it's just for me, I can do without."
The next day, Ivy arrives at her grandparents' restaurant and says she's there to help them clean it for New Year's. Po Po is initially a bit cold and says that Andrew helped them do it yesterday, but when Ivy starts stacking napkins anyway, she and Gung Gung invite Ivy to eat lunch with them. The three of them eat takeout hamburgers from North Beach, and Po Po comments, "We get tired of eating Chinese food all the time, too." Gung Gung comments that he didn't have a hamburger until he was 19 because he couldn't speak English when he first arrived from China. He tells a story about his grandfather who came to the United States to work on the Transcontinental Railroad. His wife, children, and grandchildren were able to join them in the United States after new laws were passed. Ivy asks if they're better off in the United States, and Gung Gung comments on contemporary crises in China and says he feels they're lucky to be here. Po Po shares a story of having to write a report about her family in her first week of school and that she changed her siblings' names to Americanized versions. She explains that she felt embarrassed. Gung Gung jokes about her eight siblings, and they say that some of them haven't seen their restaurant yet. Gung Gung says, "I can't wait to show it off!" Po Po adds, "We would not have all these opportunities had our families not taken the risk to come here. Always remember that, Ivy." They look at an old photo of Po Po's family, and she comments that Ivy has her sister's chin. Ivy then asks her grandparents if they know how to make ningo, her mother's favorite dish, and they all make it together.
When Ivy returns home, she and Andrew tease each other, and then she notices a red Chinese New Year decoration that hasn't been hung up. He comments that it'll probably stay where it is until the next Chinese New Year's. Ivy and Andrew decide to decorate the whole house as a surprise for their parents. When their parents return and they talk about the ningo and the decorations, Ivy tells them she's coming to the dinner.
The day before the family dinner, Ivy is at gymnastics practice, and she lands her routines on the beam. Mrs. Ling comes in early and proudly watches Ivy. She also brings her a towel and snack, and she compliments Ivy on her routine. Ivy comments, "Maybe by next season, I'll be perfect." She tries to tell Coach Gloria that she can't make the meet, but she trips over her words. Coach Gloria tells Ivy that she's the strongest she's seen her even on the beam, and she knows she won't let the team down. Ivy feels so guilty about missing that she leaves without sharing her news.
In bed that night, Ivy asks for help from Julie over the phone. Mrs. Ling hears her outside the door. Ivy comments that if it were Andrew, her family would find a way to make it work so they could brag about his accomplishments at all-city kung-fu. Ivy still resolves to go to the dinner.
That night, Ivy is up writing a pro-con list in her notebook when her mother comes into the kitchen. She confesses that she couldn't tell her coach about the dinner, and she wants to know how to make a decision that's right for everyone. Mrs. Ling explains that she made a similar pro-con list when deciding to attend law school, and everything logically told her not to go. However, she had always wanted to be a lawyer, and even though it put some strains on the family, she was happy with her choice. She tells Ivy, "Sometimes your decision? It just has to be right for you." She also reminds her daughter that people are defined by more than one thing.
When Ivy wakes up the next morning, she finds her mom sewing her competition leotard. She thanks her and hugs her. Mrs. Ling spends the day calling their family members. At the competition that evening, Ivy sits alone while she waits for her turn to compete. She looks up at some noise from the stands, where her mother is ushering in Julie and the Lings' extended family. Her family cheers for her as she competes on beam.
In the next scene, Ivy is wearing her red New Year dress along with a gold gymnastics medal from the tournament. Both girls are at the family Chinese New Year dinner at the Happy Jade. They receive money in red envelopes and decide to shop at Julie's mom's store. Mr. Albright and Tracy look at each other hesitantly next to a bowl of red Pop Rocks, which Julie brought purposely to get the two to talk. She says it's their favorite.
A relative congratulates Ivy on her gymnastics meet, but speaks in Chinese. Mrs. Ling starts to translate, but Ivy interrupts and replies in Chinese herself. Everyone sits down to eat dinner, and Ivy says "Gung hay fat choy," as they begin eating. She smiles as they celebrate together.
The credits play over grainy footage that is shot as if it is a family film. These include further scenes of the dinner.
Book Plots Included in the Film
The film combines the plots of Good Luck, Ivy and Happy New Year, Julie!
Book and Movie Differences
Ivy and Andrew's Chinese teacher is named Mrs. Lu. In the books, their teacher is Mrs. Chan.
The Lings live in a second floor apartment with an entrance from stairs in an alley. In the books, they live in a house across the street from Julie's father.
Ivy's gymnastics team is called the Tumblers. In the books, it's called the Twisters.
In the movie, Ivy's gymnastics tournament and the family's Chinese New Year and family reunion (which are combined) fall on the same date, January 30, causing a conflict for Ivy. In the books, Ivy has only the family reunion conflicting with the tournament.
Ivy practices gymnastics at the "Bay Street Youth Center." Bay Street is a real street in San Francisco and is north of Chinatown and North Beach. In the books, Ivy practices at the Chinatown YMCA.
Ivy's parents send Mr. Albright an invitation to their New Year dinner, and Julie worries about her whole family being together for this. She explains this to Ivy, and Ivy suggests that Mr. and Mrs. Ling probably thought it would be rude to exclude Mr. Albright from the dinner. In the books, Ivy delivers an invitation to Mr. Albright on behalf of her family and tells Julie excitedly after the fact. Julie worries and keeps her fears to herself.
Although Julie's mom attends the New Year's dinner in the books, she is not seen at the restaurant in the movie.
Ivy's grandparents' restaurant is called the Happy Jade. In the books, it is the Happy Panda.
Characterization Differences
Julie's actress, Hannah Nordberg, has blue eyes. Julie has brown eyes in the books.
Julie is mentioned to be German, Dutch, Irish, and Hungarian in the film. Julie's background is never mentioned in the books.
Andrew is portrayed as studious and devoted to studying Chinese. In the books, Andrew is also frustrated at having to attend Chinese school and would rather focus on sports. However, the language comes much easier to Andrew, and Ivy envies this. In the books, Ivy works hard at Chinese school even when it frustrates her, but in the film, she daydreams and skips class.
In the movie Ivy is frustrated that she has to cut her hair for Chinese New Year, and she tells Julie she's lucky her mom lets her grow her hair out like Marcia Brady. In the books, Ivy isn't upset about her short hair and actually shows it off. Additionally, Ivy is not actually seen with short hair at any point in the movie.
Ivy's mother buys her a new red dress that Ivy isn't very interested in wearing. In the books, Ivy and Julie try on dresses in Chinatown while they're helping Mrs. Ling shop for Chinese New Year, and Mrs. Ling buys both girls new dresses later as a treat and as part of the tradition of wearing new clothes for the holiday, and both girls are excited about the dresses.
Coach Gloria wants Ivy to go "back to the basics" of balance beam after she falls in practice, then go to low beam before working up to the high beam again. In the books, when Ivy struggles with her routine, Coach Gloria does not ask her to stop practicing on the beam, but rather, to put her fears aside so she doesn't hesitate.
Mr. Ling is listed in credits as "Sam Ling" and his security uniform has "S. Ling" on the name tag. However, he never is given a first name in the books.
Ivy's grandparents have takeout hamburgers with her in their restaurant's kitchen. In the books, they take Ivy to a diner far away from Chinatown where their customers won't see them. They eat hamburgers together as well.
Po Po says she had eight brothers and sisters. However, in the books, Po Po only has two siblings. Po Po explains in The Puzzle of the Paper Daughter that she traveled alone to the United States in 1919 when she was fourteen; her mother died in China, and her father had two more children after he remarried.
Errors and Inaccuracies
Gung Gung says his grandfather came to America to work on the Transcontinental Railroad and his family was only able to join him after a new law was passed. It is unclear which law this was, because the Chinese_Exclusion_Act was implemented in 1882 and there were no changes made to Chinese immigration until the 1943 Magnuson_Act. At this point, the family included Gung Gung's father and his own children. Gung Gung's father would have been able to travel to the United States under the existing Chinese Exclusion Act because his father was in the country. Presumably then, his children could follow. However, no law would have been implemented when Gung Gung was "just a little older" than Ivy that would have significantly changed immigration for the Chinese.
Digital Release
The movie was released on Amazon Prime Video on March 24, 2017.
Items Associated With the Movie
Trivia
Although no items were formally released with this film, several items in Julie's collection are replicated in the film. A red dress similar, but not identical to Ivy's New Year Outfit is used throughout the film. Julie is first seen wearing bell bottom jeans and a crocheted yellow vest similar to her BeForever meet outfit. Julie has a yellow phone and Jiffy Pop similar to those in Julie's Snack Set. She also has pink paisley bedding similar to that in Julie's Bed and Bedding (Beforever).
Links
References