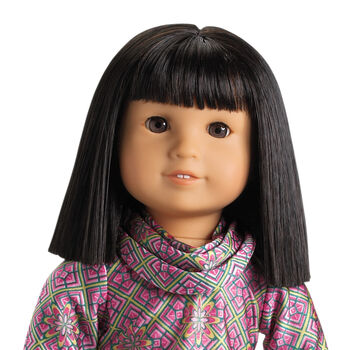 The Ivy Ling doll was released in 2007. She was the only Best Friend to be released simultaneously with her Historical Character, Julie Albright. Ivy was retired in 2014.
Ivy Doll
There are slight modifications to the eyes sockets.
Skin: Light
Hair: Black, straight, bangs, shoulder length
Eyes: Brown
Ivy has decal brown eyes, which are different from the standard brown used on most dolls. The only other doll that these have been used on is Samantha Parkington.
Meet Outfit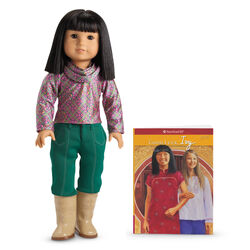 Ivy's meet outfit and accessories reflects the fashions of the era--cowl neck shirts, bright colors, calf boots, and denim.
Shirt
Colorful diamond print long sleeved knit shirt with a loose cowl neckline. Velcros up the back.
Pants
Green twill pants with contrast yellow stitching. Velcros at the waistband. Ivy comes with plastic wrapped around her legs to prevent leg staining from her pants while in her box.
Boots
Tan boots with decorative topstitching. Velcro up the back for ease of wear.
Panties
Chartreuse panties with a rainbow on the front.
Earrings
Removable gold-colored plastic stud earrings.
Meet Accessories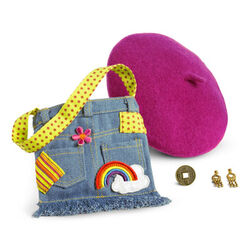 Beret
Soft raspberry-colored beret.
Denim purse
Denim purse designed to look like it was made from old jeans. Has patches and a ribbon strap.
Earrings
A pair of gold chandelier earrings. They do not go into the ears directly; there are loops at the top and they are to be put on the gold studs that come with Ivy.
Coin
A replica of a Chinese coin.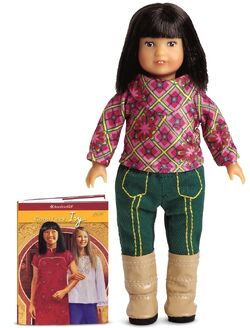 Unlike Julie and the other Best Friend dolls, Ivy's mini doll was not available with her release. The mini doll was released four years later in fall 2011, and it was retired in 2014.
Trivia
Ivy was the first Asian character from the Historical Characters line, but not the first East Asian character to have her own doll; Chou Spring Pearl (of the Girls of Many Lands line) and Jess McConnell (of the Girls of the Year line) preceded her.
Ivy's hair is long at the start of Julie's series (at least waist length) and is cut short in Happy New Year, Julie!; American Girl gave the doll shoulder-length hair.
Ivy has the smallest collection of any Best Friend with only two outfits.
Just Like You 54, a similar modern doll, was released in 2011. This doll has slightly longer hair and did not have modifications to the eye sockets like Ivy. However, JLY 54 was produced with these modifications starting in 2015, after Ivy's retirement.