Ivy Ling was the fourth Best Friend released; she is the "Best Friend" of Julie Albright.
In May 2014 American Girl announced that they would archive Ivy's entire collection; she and her collection were later archived in August 2014. Ivy's book remains available for purchase.
Personality and Facts
Ivy Ling (nicknamed "Poison Ivy" by Julie) is a ten-year-old Chinese American girl who wants to make her family proud. She loves gymnastics and hates to mess up in front of a crowd. Although Ivy seems to have a deep connection to her Chinese heritage, Chinese school is somewhat boring to her and she doesn't like to eat Chinese food every single day. But by the end of her book, Good Luck, Ivy, Ivy learns the value of having Chinese background. Ivy has a larger family than Julie. Ivy often doesn't understand Julie's bouts into trying to change the world.
American Girl characterizes her as "talented" and "lucky."
Family and Friends
Family
Friends
Book
Ivy plays a major role in most of Julie's books, the most prominent being Happy New Year, Julie!, The Puzzle of the Paper Daughter, and Lost in the City.
Ivy is portrayed by Grace Liu.
Ivy is portrayed by Nina Lu.
Doll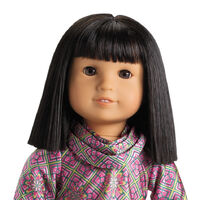 Skin: Light
Hair: Black, straight, shoulder length, bangs
Eyes: Decal Brown
Meet Outfit
Pink and green cowl-neck top
Green twill pants
Tan boots
Yellow-green underwear with a rainbow print
Meet Accessories
Magenta beret
Denim bag
Gold chandelier earrings
Chinese coin
Collection
Trivia
Ivy was the first Asian character from the Historical Characters line, but not the first Asian character to have her own doll; Chou Spring Pearl (of the Girls of Many Lands line) and Jess McConnell (of the Girls of the Year line) preceded her.
Like Julie, Ivy is the only best friend character to wear pants with her Meet Outfit due to the cultural shift in acceptable casual women's wear.
Ivy's hair is long at the start of Julie's series and is cut short in Happy New Year, Julie!; American Girl gave the doll shoulder-length hair.
Ivy has a very small collection compared to the other dolls, only having two additional outfits. She has no pajamas as most of the historical dolls do, and did not receive a mini doll until 2011.
While it is never stated what Chinese dialect Ivy's family speaks with, much of the romanized terminology used in Julie's series points to Taishanese as it was the predominant variant of the Cantonese dialect of 19th- and 20th-century immigrants.[1]
References