The Isabelle Palmer doll was released in 2014 and was available for only one year before retirement. She is considered the Girl of the Year for 2014.
Isabelle Doll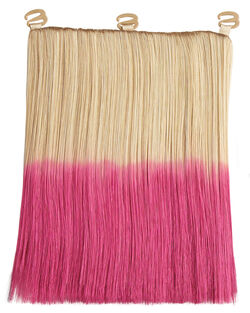 Skin: Light
Hair: Blonde. Isabelle's hair comes styled in little twists on either side of her head.

Pink-tipped hair extensions are included to attach to Isabelle's hair; the extension only works with the Isabelle doll and come with information for attachment. Three plastic clips slide into ribbon loops sewn into Isabelle's wig cap. 

Eyes: Dark hazel
Meet Outfit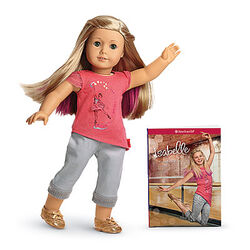 Shirt
Coral knit tee with asymmetrical hem; tee dips down to a point on doll's left hip. Coral "Isabelle" tag in left side seam near hem. Flutter sleeves of coral mesh. Black and silver printed dancer graphic on center front of tee, accented with pale pink iridescent sequins of varying sizes and a tutu of light pink mesh. Velcroes up the back.
Pants
Silver-grey capri pants, metallic silver cuffs. Stitching forms "pockets" and "fly". Elastic at back of waistband.
Underwear
Dark coral underpants with pale pink elastic bands at waist and leg holes.
Shoes
Golden glitter sling-back shoes. Gold ribbon bow details on toes. Tan rubber soles.
Isabelle's Shirt and Isabelle's Pants for children were available.
Trivia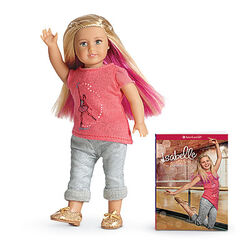 A mini doll of Isabelle was released in January 2014 and was sold only in bookstores and third party merchant sites. The mini doll was never made available for sale directly through American Girl, except when it was briefly sold as part of a two-book set.
Isabelle cost $120 instead of the typical $110 (that was current at the time of her launch); the extra cost was assumed to be because of her hair extensions.
Unlike the Historical, Best Friend, and previous Girls of the Year dolls, Isabelle was the first character doll to have ear piercing as an optional add on at the time of purchase.
The Sparkling Step Shoes resemble the meet shoes.
See Also