"Isabelle" redirects here. For the doll, see Isabelle Palmer (doll). For the book, see Isabelle. For the movie, see Isabelle Dances into the Spotlight.
For the Girls of Many Lands character, see Isabel Campion.
Isabelle Palmer is the twelfth Girl of the Year released by the American Girl Doll company. She was released in 2014.
Character
Isabelle is a nine-year-old girl who lives in Washington, DC. She loves to dance and performs ballet and modern dance. She is able to enroll in her dream school, Anna Hart School of the Arts, but Isabelle can't help but compare herself to other dancers and often gets performance anxiety. Her big sister Jade also attends, which is one of the reasons why Isabelle feels overshadowed, as Jade is one of the star performers, and she is constantly compared to her.
While Isabelle loves to dance, she isn't too confident in her abilities, and is very surprised to find out that she's a natural leader and great at calming down others, advising them in how to perform better, and cheering up other anxious performers. Jade says that she loves to help people.
Isabelle loves to sew and design her own dance costumes, as the teachers often like her to help design costumes. She helped her studio design costumes for The Nutcracker, in which Jade was Clara and Isabelle was the Gingerbread Girl, and also made capes and some costumes for her tour group.
Her mom, Nancy, is a textile artist and her dad, Leo, is a hospital administrator and a jazz musician. Her twelve-year-old sister Jade also loves to dance. She also has a white kitten named Tutu.
Her best friends are Luisa, a fellow dancer at the school and Gabriel, a magician. She used to be rivals with Renata (which was ironic, as Renata idolized Jade), but after Isabelle reassures her following her family failing to attend their show in To the Stars, Isabelle, Renata became a lot less mean to her. Jade and Isabelle's idol is Jackie Sanchez, who she eventually befriends while working on tour with her; Jackie even gives her her own first pointe shoes as a souvenir.
Books
Short Stories
Movie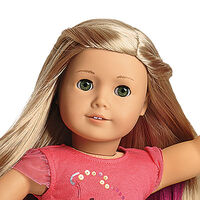 Skin: Light
Hair: Blonde with detachable pink hair extensions
Eyes: Hazel
Collection
Trivia

Isabelle is the first Girl of the Year to have three books.
Isabelle was the first character to have an eBook sold.
A girl sized headband inspired by Isabelle was available as Isabelle's Dance Headband; the retail cost is $5.
See Also
References
↑

Isabelle turns 10 in Designs by Isabelle, which takes place in Autumn 2014, but the American Girl Visual Guide contradicts with the year 2005.