Isabelle's Legwarmers Set is part of Isabelle's Collection and, like her, was retired at the end of 2014. The retail cost was $12.
Tights
Opaque pale pink tights. Pink elastic with scalloped detail at waist.
Long Legwarmers
Ribbed-knit coral legwarmers. When worn, these can reach from the doll's ankles to her knees.
Short Legwarmers
Metallic silver ribbed-knit legwarmers. These reach from dolls' ankles up to about mid calf.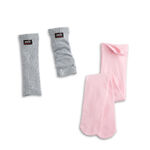 The children's legwarmers set was available for a cost of $18; they did not include the coral legwarmers.