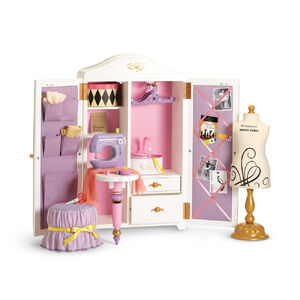 Isabelle's Studio is part of Isabelle's Collection and, like her, was retired at the end of 2014. The retail cost was $275.
Armoire
White plastic armoire with double mirrored doors. Gold plastic bar handles to open doors; gold curlicue accent on armoire's curved top. Dark purple "Hart Dance Company" logo in bottom right corner. The doors are lined on the inside with stiff lilac fabric, forming one large and four small pockets on the left door, and a pink-ribbon-trimmed bulletin board on the right door (ribbons are attached in a crisscross pattern and embellished with buttons at each cross). The inside of the armoire is split into two sections by a vertical white dividing wall. On the slightly narrower left side, two white shelves form spaces for the hatbox and other pieces. Below these, a rounded table folds out from a third shelf to be supported on a hinged fancy spindle leg decorated in pink, lilac, gold, and black. This is intended to create a table for the sewing machine; when folded up there is enough room underneath to store the stool. The right side has two drawers at the bottom and a large open compartment above them. The lower drawer is deeper than the upper drawer, and both have fancy gold pull handles. At the top of the open compartment is a gold rod to hook the hangers on; this rod runs back-to-front instead of side-to-side because the armoire is not deep enough to accommodate hangers in the traditional placement.
Sewing Machine
Lavender plastic sewing machine with white knobs and gold curlicue decoration. Metallic silver rectangle plate underneath presser foot; both presser foot and thread spindle are also metallic silver. When batteries (not included with set) are inserted and the power switch on the bottom of the machine is turned on, a push on the button in the center of the side knob will activate the machine. When activated, the presser foot will move up and down with a whirring sound effect. A light near the presser foot also comes on when machine is activated.
Stool
Lavender plastic stool. Seat of stool is covered with a quilted fabric cushion; a skirt of the same fabric is gathered around the seat and held down by a yellow ribbon tied in a bow. Darker purple stitching forms a decorative hem on the skirt.
Spools
Three pretend spools of thread in lilac, yellow, and pink.
Dress Form
Off-white cloth-over-plastic dress form on a gold plastic pedestal. Mannequin portion is the same size as the standard American Girl doll torso and is decorated with black curlicues. "(star)American Girl DRESS FORM" on front of mannequin's chest in black text.
Hangers
Three lilac plastic hangers molded into a decorative bubble design with a star cutout near hook of hanger.
Hatbox
Oval-shaped hatbox with lid. Box is decorated in alternating diamonds of beige and black with gold dot accents, lid is red with pink and red vertical stripes around the rim matching those on the rim of the box. This is intended to hold the paper items in the set.
Fabric Swatches
Three swatches of fabric; lightweight coral textured knit, gold matte satin, and cream stretchy sheer with a subtle integrated stripe. Each swatch is pinked around the edges.
Sewing Basket
White plastic sewing basket molded to resemble woven wicker, pink trim. Golden curlicues on either side of basket. Flat lid is hinged to open on either side; a curved pink handle sits between the two halves and can fold flat when not in use. Lining and bottom of basket are plain pink plastic.
Scissors
Pretend plastic sewing scissors with gray plastic blades and red plastic handles. Scissors can open and shut but cannot cut anything.
Pincushion
Lilac fabric pincushion with white polka dots. Yellow buttons at top and bottom, gold threads between the two buttons form the pincushion's shape.
Measuring Tape
Yellow ribbon measuring tape with black markings Inches are real inches and not scaled for the dolls.
Sketchbook
Flip book style sketchbook with tan cardstock colors. "Designer's (in small fancy print) Sketch Book (in large, crayon-style letters)" written on front cover in black. Pages are made of plain white paper with rounded corners. Each page contains a template for front and back views of an outfit, with a box on the right side for notes; the first few pages contain sketches similar to outfits in Isabelle's collection.
Photos
Three black-and-white photos: an autographed picture of Jackie Sanchez onstage, a generic ballerina surrounded by white curlicues, and a miniature poster featuring a male dancer with text that reads "BORN TO DANCE".
Ballet Program
Printed program for the "Hart Dance Company Autumn Festival", on glossy paper in a color scheme of mostly orange, black, and white. Inside are all the show's acts listed by name and the class performing, written in black text, as well as information on the show's date, time, and location. The back of the program is orange with a black Hart Dance Company logo.
Tickets
Two tickets to shows at Hart Dance Company; one lime green for a Spring Festival and the other golden yellow for an Autumn Festival. Printed on each ticket is the HDC logo as well as information about the show.
Community content is available under
CC-BY-SA
unless otherwise noted.