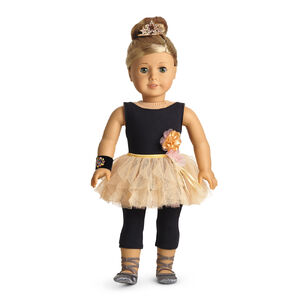 Isabelle's Performance Set is part of Isabelle's Collection and, like her, was retired at the end of 2014. The retail cost was $38.
Unitard
Black stretch knit sleeveless unitard. Legs come to about mid-calf. Wide boat neckline. Velcroes up the back.
Skirt
Elastic-waist tulle skirt. The innermost layer is gathered light pink tulle and the outer layer is an apricot gold tulle. More dimension is added to the outer layer with scalloped apricot tulle frills sewn vertically all around the skirt. Gold satin waistband with rose gold "Isabelle" logo tag at one side of waist. Small loop to button on the corsage.
Corsage
Small bunch of faux flowers mounted on a felt backing. Backing has a button to attach to the skirt. Flower design consists of one large cluster of apricot satin flowers, a few smaller gathered rosettes of pink and white tulle with clustered rhinestone centers, and three short gold ribbon streamers. This piece plays a big role in the Isabelle book, in which Isabelle tries to gain confidence with a "lucky" sash, only to trip and fall during dress rehearsal because the sash is too long. She ends up trimming it shorter, and it is that short version that the outfit represents.
Shoes
Dark gray satin ballet slippers. Gray elastic loops attached at back of ankle, these simulate crisscrossed ribbons when shoes are worn. Single gray elastic strap over the foot. Black faux leather soles.
Tiara
Shiny gold-colored metal tiara. Comb shape on back to slide into doll's hair. Three rhinestone-studded star shapes in front of tiara, with one hollow outline star flanked by two smaller solid stars. A few rhinestones also accent the main band of the tiara.
Wristband
Black velvet wristband with Velcro to fasten around doll's wrist. Gold, pink, and silver rhinestones arranged in a flower shape on center of wristband. This is shown on Isabelle's right wrist in both the book and most catalog illustrations.
Community content is available under
CC-BY-SA
unless otherwise noted.