Isabelle's Fashion Sketchbook is an activity book that is part of Isabelle's Collection.
Details
The sketchbook is hard cover spiral bound in order to open and lay flat. At initial purchase, the book comes in a plastic cover that includes a frame with images of Isabelle and the interior pages. At the back of the book is a clear storage pouch.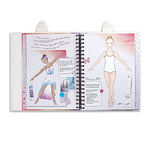 There are tips on how to design ballet and dance costumes, then several pages of design ideas and blank pages or models. Three models are given: a black dancer, white dancer, and East Asian dancer, each in unique poses. Each is dressed with hair up in a bun and in a plain strapped leotard with low white ballet style slippers. These can be "dressed" with matching repositionable stickers (aligned to specific poses as dictated on the upper right corner) and additional accessory stickers, ribbon and ribbon lace skirts, and jewel stickers; fabric swatch stickers can be placed on pages to simulate fabric swatches. Users are also encouraged to draw on blank pages or the models directly.
While there is no author or illustrator listed, the book was produced with help from EKSuccess Brands.
Community content is available under
CC-BY-SA
unless otherwise noted.