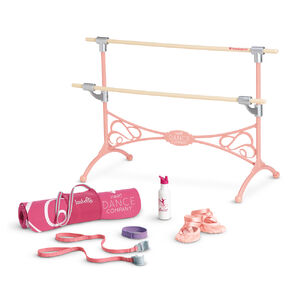 Isabelle's Dance Barre is part of Isabelle's Collection and, like her, was retired at the end of 2014. The retail cost was $65.
Barre
Two-level dance barre. Coral pink curlicue frame with white "Hart DANCE Company" in white text in center. Frame rests on four rounded "feet" that prevent the barre from skidding or scratching a floor. Cream-colored bars are attached to frame with silver plastic brackets and are non-removable. Dark pink "American Girl" logo on upper bar near right end.
Yoga Mat
Dark pink yoga mat decorated with white curlicues and a "Hart Dance Company" logo in thin white text. Comes with a reddish-pink carrier that wraps and velcroes around mat to keep it rolled up for storage and travel. Carrier has a shoulder strap of reddish-pink bordered with white. Isabelle's name is embroidered in white script on side of carrier.
Slippers
Coral pink ballet slippers. Single elastic strap over foot is attached to looped elastics that simulate ribbons crisscrossed around doll's ankles, similar to the shoes in Isabelle's Performance Set. Coral pink elastic straps have a slight sheen to them. Matching coral pink faux-leather soles.
Pilates Straps
Two coral grosgrain straps. Each strap is sewn into a loop for doll's wrist or ankle at one end with a gray plastic clip on the other end that can hook onto either barre.
Water Bottle
White plastic water bottle. Dark pink lid with small handle and spout. "Ballet" written in dark pink script on one side below a dark pink silhouette of a dancer on a background of coral curlicues.
Support Bandage
Stretchy lilac fabric bandage with "scratchy side" Velcro at one end. Can be wrapped and/or fastened around any of the doll's limbs.
Pamphlet
Small pamphlet of exercises and poses the doll can do at the barre. Pamphlet is illustrated with drawings, not photos, but the doll pictured does resemble Isabelle, dressed in her Purple Leotard with a pair of plain black leggings.
See Also
Community content is available under
CC-BY-SA
unless otherwise noted.