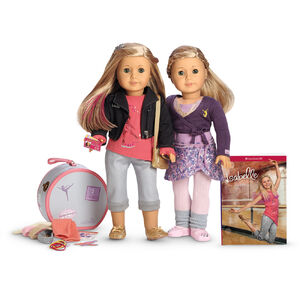 This is a list of all the items that were available for Isabelle Palmer. As Isabelle was a Girl of the Year, she and her items were only available from January 2014 to December 2014 and were then retired.
Doll
Isabelle came with a copy of Isabelle.
Outfits
Mix and Match Wardrobe
The majority of Isabelle's wardrobe was a mix and match dance themed collection, similar to later released Modern Mix and Match Sets. The items included are:
Other Clothing
Accessories
Books
Short Stories
Activity Books
Movie
Mobile Apps
Isabelle's Starter Collection
Isabelle's Starter Collection consisted of the doll, meet book, Isabelle's Accessories, Isabelle's Dance Case, Isabelle's Purple Leotard, Isabelle's Dance Skirt, Isabelle's Legwarmers Set, and Isabelle's Wrap Sweater for $259, and $273 for the option to add ear piercing.
Debut Giveaway Item
Isabelle's giveaway item was a white decorated T shirt.
Isabelle's Whole World
A Whole World collection was not released.
Trivia
Isabelle was the first doll to have multiple mix-and-match pieces in her collection. Accordingly, many of the pieces whem combined add up to make outfits that are similarly priced to normal outfits.