This article is about the Girls of Many Lands character. For the 2014 Girl of the Year character, see Isabelle Palmer.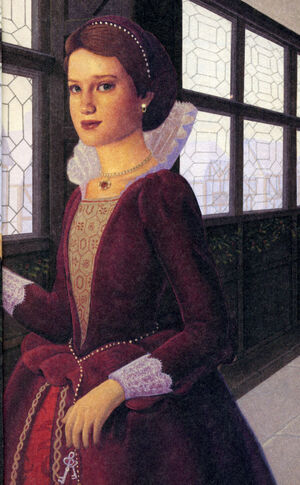 Isabel Campion was one of the first five Girls of Many Lands, representing England during Tudor times. Isabel Campion was released in 2002 along with Cécile Revel, Spring Pearl, Minuk and Neela Sen. She is the primary character of Isabel: Taking Wing.
Personality and Facts
Isabel is twelve years old and living in London, England in 1592. Isabel loves high adventure and is thought to be very bold, as she has gone out of the house without permission, and speaks insolently to her Aunt Elinor. Isabel dreams of travel and often wishes women could do the things men do. Isabel loves Latin, poetry, and philosophy. She had a private tutor before she was banished from London, and her Aunt de Vere became her tutor. She is often caught in her dreams or "moonshine" as Aunt Elinor describes it.
She is mesmerized by the Playhouse and the plays in London and becomes an undercover "actor" for some time. Isabel likes watching the performances more than performing herself. Isabel is also a great singer and plays the lute.
Though Isabel is daring, she is also compassionate and kind. She helps her Aunt de Vere in her clinic. Isabel is not class conscious and eagerly befriends Meg, a servant girl in her home. Feeling lonely after her mother's death, Isabel loved having Meg around and thinks of them as equals. She also shows true compassion and responsibility when she is called to London to help her baby sister, who was sick during the bubonic plague that had erupted in London that summer. Isabel is different from her sister Sabine, who is motherly, quiet, and acts very mature.
Book
Isabel: Taking Wing by Annie Dalton
Doll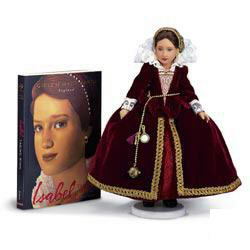 The Isabel doll was intended for display only. Her dark auburn hair came tucked under a snood, and she had green eyes. The components of her outfit were:
Maroon velvet bodice with embroidered stomacher, white starched lace ruff, gold thread, and lace cuffs
Maroon velvet overskirt with gold lining, gold braid trim, and attached light maroon silk jacquard underskirt
White farthingale (underskirt hoop)
Pearl and gold girdle chain
Gold mirror (attached to chain)
Two gold keys and maroon tassel (attached to chain)
Gold and "ruby" pomander that opened and closed (attached to chain)
Gold net snood with maroon band and gold and pearl trim
Pearl necklace with gold and "ruby" pendant
Pearl earrings with gold pendants
Cream thigh high stockings
Black leather t-strap shoes