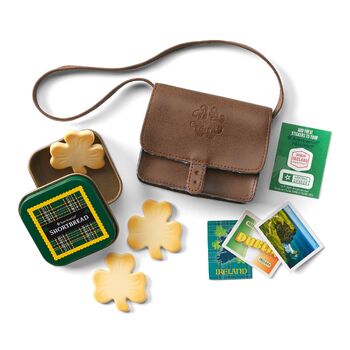 The Irish Souvenir Set is a Truly Me accessory released in 2020. It is part of the World Traveler Collection and frequently paired with the World Traveler in Ireland set. Retail cost is $18.
Messenger Bag
Brown faux leather messenger bag. Unlined Celtic knot embossed on front flap. thin shoulder strap. Flap has faux buckle strap; bag closes with velcro under flap.
Biscuit Tin
Bronze metal biscuit ("cookie") tin. Lid has green plaid square outlined with scalloped yellow edge and green background; text on front is on navy strip with two shamrocks and American Girl Shortbread. Tin is approximately 2" square.
Shortbread Biscuits
Three separated shortbread cookies with golden brown tops and score lines.
Postcards
Three postcards:
Silhouette of island of Ireland with shamrocks and Ireland over plaid background; back has address lines and shamrock style stamp.
Greetings from Dublin, Ireland over stylized colors of Irish flag; back has address lines and harp style stamp.
Cliffs of Moher; back has address lines and horseshoe style stamp.
Stickers
Two passport stickers on sheet: red hexagon with Dublin, Ireland: Departure and green rectangular with American Girl star star logo and Arrival: Dublin. Stickers suggest to be placed in American Girl passport.