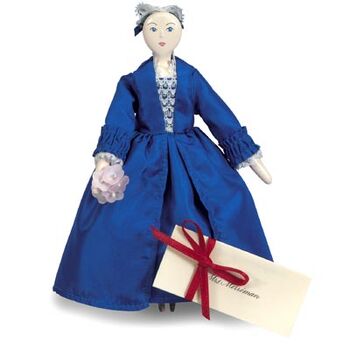 The Invitation and Fashion Doll (also known as Felicity's Invitation and Fashion Doll) was introduced to Felicity's Collection in 1991 and was retired in 2009. It was associated with the book Felicity's Surprise. Retail cost was $18.
Doll
Wooden jointed doll. Painted features: Blue eyes, black hair, pink lips, porcelain skin and hands, and white stockings with pink slippers. Dress resembles Felicity's Christmas Gown and Stomacher: non-removable blue taffeta gown and petticoat with simplified stomacher, gathered sleeve cuffs, and lace trim. Attached lace pinner cap with blue bow. Attached bouquet of pink silk flowers with bead centers in doll's right hand.
Invitation
Cream invitation folded into thirds. Red ribbon bow tied around. "Mrs. Merriman" in calligraphy. Interior text in calligraphy reads:
"Lady Dunmore presents her compliments to Mrs. Merriman and requests the favour of her Daughter Felicity's Attendance at a Dancing Lesson at the Palace on Saturday January 7 at four o'clock"
Trivia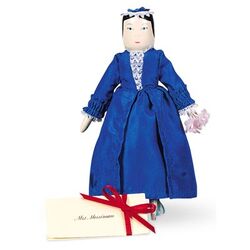 While the doll did not have a formal name in the description, Felicity reveals that she has named her doll Susannah Maria Augusta Eliza Lucy Louise in Changes for Felicity. She and Elizabeth play with their dolls together in the same book.
The original doll had a more spool shaped head; this was changed to a spoon shape in 2000.
See Also