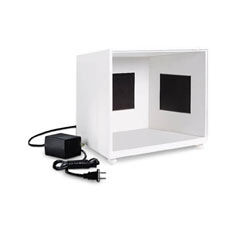 The Illuma-Room was an American Girl Minis accessory released in 2000 and retired in 2003 with the rest of the American Girl Minis line. Retail cost was $48 and later increased to $52.
Box
White wooden display box. Magnetic walls so accessories can stick on. Electrified box so plugs work. Two wire connections in back. Back of box also has sticker with AG Minis logo and a warning label. Comes wired with seven outlets inside- one on the center of the ceiling for a light and six on the floor. Comes with four detachable feet and two stacking pins on roof of box. Dimensions are 14" wide, 12 3/8" high, and 11" deep.
Plug
Plug-in transformer with electrical outlet. Label on box indicates it should use no larger than a 12V power source. Uses 12V output AC/DC adapter; input is 120V. Transformer plug works with non-AG transformers as well.