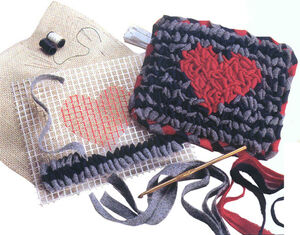 Addy's Hooked Rug Kit was a Historical Character Craft Kit introduced to Addy's Collection in 1993 and retired in 1996. Retail cost was $14 and later increased to $15.
The kit contains enough to make a doll-sized rug.
Rug Backing
Open weave rug backing, 9" wide by 7" long. Printed red heart at center for guideline.
Strips
Three packs of 18" by 5/8" wool strips: navy blue, light gray and red.
Thread
Four spools of thread: two white and two black.
Backing
Tan burlap cloth backing; 8.5" wide by 9" long.
Crochet Hook
Size H aluminum crochet hook.
Needle and pin
Sewing needle and straight pins. (These come in a clear storage tube.)
Measuring Tape
One yard (36") long white plastic measuring tape.
Instruction Book
Instruction book with diagrams on making a hooked rug.
Additional Needed Components
See Also
Community content is available under
CC-BY-SA
unless otherwise noted.