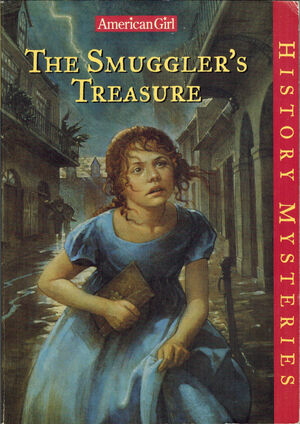 History Mysteries
were a
twenty-two book series
of mystery books originally released by American Girl.
Basic Book Facts
Each book was a stand-alone novel set in a time period and/or location generally not covered by any Historical Characters at the time, including times before the United States was founded as a country. The characters were generally older, ranging from ages ten to fourteen, and the books were marketed as for ages ten and up.
The cover shows the main character from a scene of the story. The first pages, instead of a half title page has a frontispiece; on verso is a quote from the story and on recto is a close-up from the cover illustration, focused on the main character's face. Past the title page, edition notice, dedication page, and table of contents is a two-page map titled "Character's World: Location in Year," bordered by something appropriate to the time and location. The map shows the places relevant to the story, with images of the locale.
At the beginning of each chapter is a small black-and-white sketch illustrated by Greg Dearth, designed to simulate a woodcut block and to help set the mood of the chapter. Books are written in third person limited; only the main character's thoughts and perceptions are seen.
Each book has a Looking Back section that, much like the Central Series, discusses details about the time and location and any significant events. If another language is used prominently, a glossary is included.
The series was published from 1999 to 2004 and later discontinued; several books from the series were later re-released in digital form by Open Road Integrated Media. The series can be seen as the precursor to the Historical Character Mysteries as many of the authors from this series went on to write for various Historical Series.
List of Books
Trivia
Alternate titles for the series include Mysteries Through Time and/or Mysteries through History.
See Also
Community content is available under
CC-BY-SA
unless otherwise noted.