Happy New Year, Julie! is the third book in the Julie series. It is roughly analogous to the "Surprise" books in the traditional naming format, but deals with Chinese New Year rather than the usual Christmas.
Characters
Introduced
Chapter by Chapter Summary
Chapter One: Changes for Christmas
Julie imagines how she used to spend the holidays at a Christmas tree farm near her grandparents' home in before she's interrupted by Hank. He asks Julie if she and Tracy are at the tree lot to purchase a Christmas tree, and Tracy says no. The girls take turns explaining to Hank how their parents used to take them to a Christmas tree farm in Santa Rosa, but they won't be having a Christmas tree of their own since money is tight this year. With Mom working working around the clock and the girls spending Christmas with Dad, Mom reasoned there wasn't a need for a Christmas tree this year.
Hank asks the girls if they'd like to adopt a Christmas tree. He disappears behind a row of trees, then emerges pulling a red wagon containing a potted tree. The idea was to plant the tree outside the Veterans' Center, but Hank tells the girls they're welcome to take it home for a week or two.
With Hank's permission, the girls take the tree home to Mom's apartment. Tracy suggests they decorate the tree before Mom's done with work at Gladrags downstairs as a surprise. However, neither girl knows where the decorations are stored, and Mom appears at the stairs. Julie feels the surprise she and Tracy had planned for Mom is ruined since they couldn't find the decorations. Mom suggests they all decorate the tree once the shop is closed, but she also asks the girls to help out with the store that evening.
Once business at Gladrags is over, Mom tells the girls to upstairs to make supper while she counts the day's earnings. When they're done with their meals, Julie asks Mom about the tree decorations. Mom suddenly remembers they had been left behind at Dad's house when she moved, due to lack of space. Julie wonders what they'll do with having a Christmas tree and no ornaments to decorate it with. She suddenly gets an idea that they should make their own Christmas decorations. Tracy worries about not having some of the items that made their Christmas holidays special.
Mom likes Julie's idea of making their own ornaments. Julie suggests she could fold origami cranes, and Mom asks Tracy if she has any
god's eyes
when she was in the Girl Scouts. Mom also asks Tracy to heat up popcorn to string for the tree while she plays some Christmas music, using Tracy's radio. As they continue with making decorations throughout the evening, Mom becomes fatigued and tells the girls they don't have to finish everything that night. Julie says working on the decorations is even better than Santa's workshop, and Mom tells her it's past eleven and their work is done for the night.
On Christmas Eve, when Mom's done with the shop and the family has finished eating dinner, Julie begins to pass out her gifts. Tracy receives a handmade denim cover for her tennis racket, and thanks Julie for the gift. Once they're done giving gifts to one another, they sit by the fireplace. Julie comments it doesn't feel like Christmas Eve. Mom says it's been a long day and suggests they head to bed early since Dad will be picking the girls up on Christmas morning.
Julie looks at the presents she received from Tracy and Mom, and says she misses being with her grandparents and many of the holiday traditions the whole family did before the divorce. Mom is sympathetic to Julie, and as she tells her she would love nothing more than to see the same holiday traditions, they have to be fair to Dad before Tracy interrupts, saying they have to realize things are different now. As the girls prepare for bed, Tracy is in a bad mood while the girls are brushing their teeth. Tracy is adamant about not going over to Dad's house, and Julie says she can't stay all by herself in Mom's apartment since Mom will be in Santa Rosa with their grandparents.
Julie is unable to sleep that night, and heads to Tracy's bedroom. Tracy allows Julie to enter, and the two girls talk about Dad's visit the next day. Julie pleads with Tracy, saying Christmas wouldn't be the same without her if she doesn't come to Dad's house. Julie adds it's already hard enough Mom won't be around to celebrate Christmas without Tracy not wanting to go to Dad's house as well.
Tracy tells Julie her wanting to stay at Mom's apartment is because things have changed since the divorce and there's nothing at Dad's area for Tracy anymore. She adds if Dad misses her, it's his fault for getting divorced and for Mom and the girls to move out. Julie starts to cry upon hearing Tracy's words, saying it's going to be lonely with just her and Dad. Tracy wipes away Julie's tears, saying she'll go with Julie to Dad's house since it means so much to her. The girls wish each other a Merry Christmas, then go to sleep.
Chapter Two: Problems and Puzzles
Julie finds it hard to say goodbye to Mom when Dad comes to pick her and Tracy up. As Dad drives to their old house, Julie tries to point out all the Christmas decorations to Tracy, who keeps fiddling with the radio dials. Julie suggests finding some Christmas carols playing on the radio for a sing-along, before Dad starts singing Rudolph the Red-Nosed Reindeer.
When they reach Dad's house, Julie is surprised that the house is not decorated for the holidays. She suddenly remembers Mom had been responsible for the holiday decorations. Tracy points out the lack of a Christmas tree in the living room, which prompts Dad to respond that he had put the tree in the den this year. When the family makes their way to the den, they find that it's a plastic Christmas tree. Julie tries to swallow her disappointment.
Dad then announces that he's got homemade cookies for the girls. While he goes to get the cookies and milk, Julie goes outside to the rabbit hutch to retrieve Nutmeg. When she returns, she finds Tracy sitting on a footstool looking out the window. Julie tries to console Tracy, saying she's just as disappointed as her, but Dad's been trying hard as it's his first Christmas without Mom. Dad returns with the cookies and milk. Julie is surprised that Dad knew how to bake cookies, which causes Dad to confess that a neighbor had brought them over earlier in the morning.
Julie's gift from Dad is a new Nancy Drew mystery, The Secret of the Forgotten City, while Tracy receives a princess phone, something she's always wanted. Julie asks Dad if she can head over to Ivy's house to show off her charm bracelet. Dad answers Julie's got plenty of time to spend with Ivy later, and today's a day for the whole family to spend together. Julie suggests they play Clue and watch Christmas specials, prompting Tracy to turn sour. Julie doesn't understand why Tracy has been moody the entire Christmas and asks what she wants to do. Tracy says she'll just listen to her radio.
As Julie and Dad play Clue, Julie can't help but wonder if Tracy is mad at her for making her come to Dad's house. After playing two games of Clue, Dad asks if they'd like to build a fire. Julie volunteers, and as she crumples old newspapers for kindling, an advertisement for a Nutcracker Tea at the Fairmont Hotel catches her eye. Julie thinks the tea will help lift Tracy's spirits up and asks Dad if they could go to the hotel and Dad agrees.
At the hotel, Julie says she's never seen such a fancy place. She's glad she's picked out her best outfit for the occasion, and even Tracy seems impressed with the hotel's holiday finery. The family stop to look at and admire the various Christmas trees lined in the hotel's lobby, with each tree having various, distinct ornaments patterned after an aspect of the Nutcracker ballet.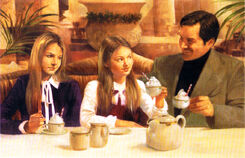 Once they're done admiring the various trees, they head to the hotel restaurant. Tracy asks if they really have to have tea, and Julie asks if they could have hot chocolate instead. Dad orders three hot chocolates for the family, and when they get their drinks, Dad calls for a Christmas toast, raising his teacup. Julie raises her teacup and clinks it with Dad, while Tracy continues to stir her hot chocolate.
Julie urges Tracy to clink her teacup with Dad's, prompting Tracy to remark that being together for one day doesn't make them a family again. Dad tries to disagree, which only causes Tracy to become emotional and flee the restaurant. Dad and Julie find Tracy on the sidewalk outside the hotel, in tears.
When they return home, Tracy makes a beeline for her bedroom. Dad stops her at the bottom of the stairs to tell her that while he wants to be a part of her life, she has to let him. He adds that he'll always be available for Tracy when she's calmed down and ready. Julie tries to go after Tracy but Dad stops her. Julie doesn't understand what's gotten into Tracy, prompting Dad to explain that Tracy's been emotionally hurt since the divorce. He suggests they should work together on the 1000-piece jigsaw puzzle, and as they work on the puzzle, Julie can't help but think trying to figure out her own feelings is a puzzle as well.
The next morning, Julie wakes up and looks across the street to Ivy's house. She sees Ivy's cats sunning themselves by the window, indicating Ivy was already awake. Julie dresses herself and eats a muffin hastily before leaving a note for Dad and hurrying over to Ivy's house. Ivy and Missy greet Julie at the front door, and Julie gives Ivy her Christmas gift. Inside Ivy's house, they find Andrew lying on the floor reading a kung-fu magazine. Missy asks Julie if she wants a tea party, and Ivy tells Missy to have Po Po set things up.
The girls make their way to the Lings' Christmas tree. Julie compliments Ivy on the Lings' tree, and Ivy says Julie's Christmas tree must also look pretty. Julie has to explain that there wasn't a decorated tree this year as well as the events of the past two days. Ivy relates her own Christmas misadventures, comparing it to cleanup preparation before Chinese New Year. She gives Julie her Christmas present, a Chinese doll named Yue Yan, meaning happy and beautiful. Ivy goes to get her own doll, Li Ming, and when she returns, she opens Julie's gift, an embroidered pillow with Ivy's name in Chinese, Julie having asked Mrs. Ling to write out Ivy's name. Julie then asks if Ivy could show her some more Chinese writing. Ivy brings out her calligraphy set, and teaches Julie how to write using the calligraphy brush. The girls pass the time doing calligraphy.
When Julie returns home, she asks if Tracy's still around. Dad explains Mom had returned from Santa Rosa to pick Tracy up since she was so unhappy at Dad's place. He adds that Tracy needs some space as well as time to heal from the divorce. Julie spends the rest of the week playing basketball and making dinner with Dad, and hanging out at Ivy's house playing with their dolls, practicing calligraphy, or riding their bikes around town. On Julie's last day at Dad's house, the girls exchange their goodbyes, consoling each other that they'll still get to see each other during the weekend.
Chapter Three: Good Fortune
It's already January when Julie gets back to Mom's apartment. Julie tries to adjust and resume her regular life after the holidays, but she still badly misses Dad. She spends the time after school doing various activities such as reading her new books, putting together her jigsaw puzzle, and knitting a hat and scarf for her new doll. Julie frequently thinks of Ivy and how close-knit her family seems with Chinese New Year approaching.
Two weeks pass and Julie is back at Dad's house for the weekend, without Tracy. Julie heads to Ivy's house and as she's about to knock, she's greeted by Mrs. Ling. The Lings have been cleaning out their house in preparation for Chinese New Year. Ivy appears and asks Julie to help make some banners, but not without Mrs. Ling reminding Ivy to wash the downstairs windows. Julie volunteers to help out with the housecleaning. Once the girls are done washing the windows Ivy offers to teach Julie how to write Gung Hay Fat Choy, meaning good luck and good health in the new year.[2] Julie slowly writes out the character for Gung, and Ivy comments on Julie's progress in calligraphy. She brings out a few banners Po Po made as a young girl. Each of Po Po's banners have a poem written on it, and Ivy translates some of the writing to Julie. Ivy adds that they'll hang some banners to decorate the house for Chinese New Year.
Julie can't wait for the next week to be at Dad's house, and when the time comes, she hurries over to Ivy's house after breakfast. She's greeted by Ivy and is surprised at her short hair, which Ivy explains as a way to bring in good fortune. Julie comments Ivy's pageboy haircut makes her look like Nancy Drew. As it's the day of the Chinatown Flower Fair, the Lings are preparing to head out to purchase flowers and produce. Mrs. Ling invites Julie to join them, and with Dad's permission, Julie and the Lings head to Chinatown, taking the long way and entering via the dragon gate.
Julie's amazed at the sight and sounds of Chinatown, decorated right before Chinese New Year, with sidewalk vendors shouting in Chinese and bright-colored silks fluttering in the wind. The children follow Mrs. Ling, making their way through the crowds on Stockton Street and stands of produce. As Mrs. Ling loads up on various foods, Julie wonders how they'll be able to eat all of it for Chinese New Year. Ivy explains the festivities start on Chinese New Year's Eve with a big family dinner, and at the end there'll be a big feast at the Happy Panda the night of the dragon parade, which prompts Andrew to brag about his participation in the parade. Andrew also takes the opportunity to leave his family and head to the Chinatown YMCA. Ivy tells Julie to look for tangerines with the leaves still attached to the stem, as a symbol of friendship and staying connected. Julie thinks of her family as she picks out her tangerines.
Soon the girls are weighed down with various plastic bags of flowers and produce. Julie comments they'll need all the good luck they can get, especially getting all the Lings' items back to their house. Mrs. Ling takes a break to talk to a woman outside the souvenir shop, and the girls take the opportunity to set their bags down and wait. Julie asks if the doll shop is nearby and if they'll have time to visit it. The girls slip away from Mrs. Ling and make their way through the crowds to the doll shop, heading inside.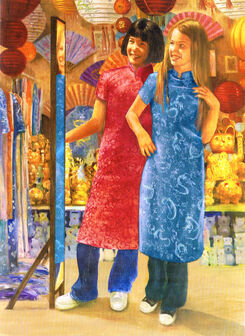 The doll shop is filled with various toys and trinkets, from dolls to tea sets to clothing. The girls try on some Chinese dresses. Julie remarks if she had a dress as fancy as the ones in the shop, she'd ask Dad to take her to the Fairmont Hotel without Tracy. Ivy comments she'd wear her dress for Chinese New Year. As the girls admire the dresses, the saleslady asks if they'd like to buy them. Ivy tells her no, and the girls reluctantly put the dresses back where they found them. They hurry back to the souvenir shop, but Mrs. Ling is nowhere to be found. As Ivy calls out for her mother, Julie worries it's her fault for going to the shop and spending too much time there. Ivy heads inside the shop to ask the woman Mrs. Ling had been talking to earlier, and tells Julie Mrs. Ling had gone to look for them. They take a moment to think where Mrs. Ling might have gone to look for them, and Ivy remembers the fortune cookie factory was the last stop, not far from a barbershop in a nearby alley.
As the girls make their way through the crowd, Julie can't help but feel lost. The girls check from alley to alley, and Julie hears a strange sound, like rain rattling on a tin roof. Ivy listens closely, and identifies the sound as mahjong tiles. She recognizes the building as one of Gung Gung's places to play mahjong, and the girls head inside. They head up the stairs to a long, open room and find Chinese men clustered in small groups. Ivy calls out for Gung Gung and explains what happened to her and Julie. Gung Gung, in turn, says something in Chinese to the other men, and leads the girls out of the building. He points out a brick building down the block emanating a sweet smell, which Ivy recognizes as the fortune-cookie factory. Gung Gung takes the girls to the factory, where they're reunited with Mrs. Ling.
Mrs. Ling is fraught with worry, and had thought the girls went ahead to the factory when she couldn't find them. Julie apologizes, saying she wanted to go to the doll shop. Ivy tries to cheer Julie up, saying if she hadn't heard the mahjong tiles, they wouldn't have found Gung Gung and they'd still be lost. Gung Gung tells them he'll be going back to his mahjong game. Mrs. Ling tells the girls not to wander off again, and the girls follow her inside the factory.
Mrs. Ling speaks with two women working the factory equipment, and the women give each girl a fortune cookie. Ivy breaks her cookie in half and pulls out her fortune, which reads, "A new blade of grass pushes through the earth to reach the sun." She asks what Julie's fortune says, which reads, "New beginnings are like new shoes." Both girls are puzzled by what their fortunes mean, and as Julie eats the rest of her cookie, she comes to the conclusion the fortunes might possibly mean that it's not always easy when first starting something new.
Chapter Four: Gung Hay Fat Choy
Julie receives a phone call from Ivy, regarding Julie's invitation to the Happy Panda to celebrate Chinese New Year. Julie says Mom had showed her the invitation and confirms she'll be attending the festivities. Ivy adds that since Julie had been such a big help around the Ling household, Julie's whole family has been invited for the event. Ivy had brought an invitation to Mr. Albright's house, and he had accepted the offer. Julie dreads the idea of her father and Tracy in the same room as Ivy chats away, saying it'll be the best Chinese New Year ever.
When the phone call's over, Julie starts to bite her fingernails and worry about having her whole family present at the Lings' event. She fears Tracy might start another scene with Dad in front of the Lings and ruin another holiday. Julie feels her family doesn't seem to have much good fortune or family togetherness, important aspects of Chinese New Year. She considers turning down Ivy's invitation for Chinese New Year, but feels it would letting Ivy down, not to mention herself. Julie remembers things used to be much less complicated prior to her parents' divorce.
Mom interrupts Julie's train of thoughts, asking her if something's wrong, and Julie tells Mom the whole dilemma. Mom comforts Julie, saying how she hates to see Julie hold her feelings in. Julie admits she wasn't sure if she should have told Mom about the events at Dad's house over Christmas. Mom acknowledges Christmas had been hard on everyone, but reminds Julie that she can always talk to her if it has anything to do with their family. Mom continues on, adding that as hard as things are with family apart, it's just as difficult with the whole family together, and it will be an recurring instance in their lives, from holidays to major life milestones such as birthdays, graduations, and weddings. Mom hopes maybe this year's Chinese New Year celebrations will provide a chance for the family to practice being together.
On the night of the dragon parade, Julie goes over to Ivy's house. The two girls exchange greetings, and Ivy brings Julie to her room to show off the red silk dress she had tried on at Chinatown. Mrs. Ling had gotten Ivy the red dress as part of the tradition of buying new clothing for the new year, having been friends with the saleslady of the shop. Ivy goes to her closet and brings out a turquoise dress, telling Julie the dress is hers. Julie is surprised at the gift and asks if she can wear it for the night. Mrs. Ling answers the turquoise dress is for Julie to keep, as thanks for helping out the Lings' Chinese New Year preparations. Mrs. Ling tells the girls it's time to go to the restaurant and she'll be taking the dresses with her.
At the Happy Panda, they're greeted by Po Po, dressed for the occasion. Po Po shows the girls the table preparation, including the chuen-hop, warning the girls not to break any dishes for fear of bad luck. Once the tables have been prepared, the girls head to the back office to change clothes.
People begin to stream into the Happy Panda, from Ivy's relatives to friends of the Lings. Mrs. Ling and Po Po receive hostess gifts, and the children receive lai see, red envelopes with money stuffed inside. Ivy tells Julie she put Monopoly money in Andrew's lai see as a joke, and the girls giggle, imagining Andrew's reaction.
Dad arrives, giving Mrs. Ling a box of candy and exchanging greetings and thanks with Mr. Ling. Dad comments he hasn't been to a Chinese banquet since he was in China in 1971. Mr. Ling is surprised Dad has been to China, since Americans were forbidden to travel to China. Dad explains he had flown the American table tennis team to Japan when they were unexpectedly invited to China, and he had been asked to be the backup pilot on the flight from Tokyo to Peking. Mr. Ling recalls all the hopes that had gone into President Nixon's ping-pong diplomacy, an event that renewed American and Chinese relations after years of political disagreement. Ivy tugs at Julie's arm, pointing out Mom and Tracy's arrival, the last guests of the event. Mom gives Mrs. Ling a purple orchid, and both she and Tracy compliment Julie on her dress. Julie is glad to see Tracy is in a good mood for the evening.
Gung Gung taps his chopstick against a water glass to quiet the guests. He leads the dinner by welcoming all for their presence tonight, then tells the story of his father's struggles in America and the eventual founding of the Happy Panda. Mr. Ling then informs the guests to find their places at the various dining tables.
The first course is soup, which Tracy is wary of. She asks Julie about the soup, and Julie pleads with her to just eat it, adding that it would be rude of Tracy to not appreciate the food. Dad comments he's never had authentic bird's nest soup, which prompts Tracy to tell Julie she didn't realize she'd be eating a bird's nest. Julie tells Tracy to just try it, and Tracy finds the soup is actually good. Once the soup bowls are gone, trays of various dishes are brought to the table. Po Po explains the significance of longevity noodles, and for a few minutes all Julie can hear throughout the restaurant are the clicking of chopsticks. Dad remarks how he could never get the hang of eating with chopsticks, and Tracy gives him a few tips on chopstick use.
Following the meal, Gung Gung announces a story to tell to the restaurant guests, the story of Nien, a monster that lived in the mountains and came to a nearby village to terrorize the townspeople. Every New Year, people would lock their doors for fear of getting eaten by Nien. One year, an elderly man gathered all the people and told them to bring drums, gongs, and various noisemakers to drive Nien away. When Nien appeared once more, the villagers started to beat drums and set off firecrackers, causing so much commotion and noise and forcing Nien to retreat back to the mountains. As a result, each year people beat drums and gongs and set off firecrackers to make sure Nien never returns.
Missy asks if the scary story is over, and Gung Gung affirms. He adds that the parade is about to begin. Julie is glad Tracy hasn't made a scene the entire evening, but is otherwise disappointed that she hasn't interacted with Dad other than showing him the proper technique on chopsticks. Julie makes sure she can't be heard by the other guests and asks Tracy why she couldn't be nicer to Dad and how she didn't even talk to him the entire evening. Tracy admits she doesn't know what to say to Dad. Julie urges Tracy to talk to Dad about anything, regardless of the subject. Tracy glances at Dad, studying a painting of a lone tree, and tells Julie she'll try.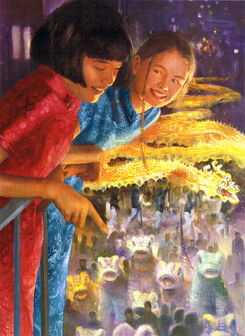 Julie and her family then go to an iron balcony above the Happy Panda, getting a bird's eye view of the parade route. Dad remarks how much he's been enjoying himself the whole evening, and Mom jokes about how much food she's eaten. Tracy leans over to Julie and whispers that she invited Dad to her tennis match the following week and he's accepted her invitation. The parade commences, with drums, floats, marching bands, and other participants of the parade. Missy asks Gung Gung about
Gum Lang
, the Golden Dragon, and Po Po answers that the dragon will be at parade's end. Ivy spots Andrew in the parade route, leading Gum Lung, and points him out to Missy. Amidst the noise stemming from Gum Lung's appearance, Po Po wishes all
Gung Hay Fat Choy
.
Julie thinks about Ivy's great-grandfather leaving his home, his family, and everything familiar behind for America to begin a fresh start, and compares it to her own life during the past few months with the divorce and moving homes. The story about Ivy's great-grandfather fills Julie with hope for new beginnings, and the festivities that evening have shown her family could come together in celebration. Julie is reminded of Gung Gung's story about Nien, and holds out her noisemaker, twirling it and smiling as the sounds of her noisemaker echo into the night.
Looking Back: Holiday Traditions in the 1970s
Discusses Christmas and Chinese New Year celebrations during the 1970s. Topics covered:
Items associated with Happy New Year, Julie!
Trivia
References and Footnotes
Community content is available under
CC-BY-SA
unless otherwise noted.