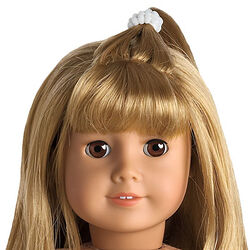 The Gwen Thompson doll was released in 2009 and was available for only one year before retirement. She was considered part of the Girl of the Year collection for 2009. 
Gwen Doll
Skin: Light
Hair: Straight, blonde, with bangs
Originally, Gwen came with her hair pulled to the side in a white ponytail holder with two small pieces hanging in front. In February 2009, her hair was restyled to have a half ponytail near the top.
Meet Outfit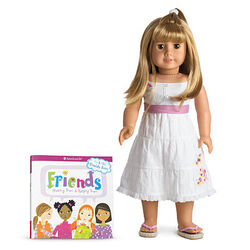 Gwen wears her meet outfit on the cover of Chrissa Stands Strong.
Dress
White eyelet lace sundress with embroidery on upper left of bodice and lower right hem of skirt and three clear decorative buttons. In the movie, Gwen wears a similar dress at the debut of the fourth grade social studies project.
Shoes
Pink braided sandals. They have a clear strap to hold them on. These are similar to Jess's, except with pink braid instead of red.
Panties
Light pink panties with a lotus flower on hip.
Headband
Pink headband. The headband has significance in that when Gwen's bangs are chopped short by Tara, she uses this to hide her ruined hair. In February 2009, it was changed to be around her waist as a belt when sold.
Book
Gwen came with the book Friends: Making Them and Keeping Them.
Eyelet Sundress
After retirement, Gwen's meet outfit was briefly sold in 2010 as a Just Like You outfit under the name Eyelet Sundress for Dolls for a discounted price of $24.
Trivia
Gwen is quite similar in looks to Just Like You 12.
Gwen's very short bangs have a story behind them: Tara James, the leader of the Queen Bees, cuts off her bangs. The bangs of the Gwen doll have grown out more than the way they appeared when first cut.
In February 2009, Gwen was modified slightly; she was given a new hair style and the hairband was put around her waist instead. There was no official reason given from American Girl for the changes.
See Also