"Gwen" redirects here. For the doll, see Gwen Thompson (doll).

Gwen Thompson is a companion to the seventh Girl of the Year, Chrissa Maxwell. She was released by the American Girl Doll company in 2009.
Character
Gwen Thompson is a shy and quiet girl in Chrissa's 4th grade class with large brown eyes and blonde hair she lets hang over her eyes (before it was cut). She has no friends until Chrissa befriends her. The Queen Bees--Tara, Sonali, and Jadyn--referred to her as the Loser Girl and played mean and spiteful pranks on her through the book. The bullying disturbs Sonali Matthews and soon after Tara maliciously cuts off Gwen's bangs, Sonali leaves the group and becomes friends with Gwen and Chrissa.
Gwen and her mother Janine fell on hard times when her father lost his job; they later lost the house as they were unable to keep up payments. Soon after, Gwen's father left them and they became homeless the fall before the start of the book's events. Initially, Gwen's mother has them live in their car until the winter comes; she then takes them to Sunrise House, a place for homeless women and children. Sunrise House helps them get on their feet and eventually get a new apartment.
Like Sonali and Chrissa, Gwen likes to swim. However, she is not a strong swimmer and is sent to work with the 8-9 year olds. She becomes the swim coach's assistant on the swim team in the second book so that she can participate and learn to swim better. In Chrissa Stands Strong this makes her the object of cyberbullying.
In the movie, Gwen is an extremely skilled violinist; she uses a school violin because she no longer has her own (it is not specified but can be assumed that it was sold in the middle of the Thompsons' financial distress). It is mentioned that she used to have a violin in Chrissa but there is no mention of her playing at school. She also likes harps, but does not play them.
Books
Gwen is a major character in Chrissa's two books, Chrissa and Chrissa Stands Strong.
Movie
In Chrissa Stands Strong (movie) Gwen is portrayed by Kaitlyn Dever. Some differences between book and movie:
In the movie, Gwen has hazel eyes and her hair is more of a dirty blonde.
Janine's husband abandoned her and Gwen in the books but in the movie, it is implied that Gwen's father has passed away.
In the movie, it is never mentioned that Gwen and Janine lived in their car.
In the books, Gwen was on the swim team, then switched to being the coach's assistant. In the movie, she only comes to the swim meets.
See: Gwen Thompson (doll)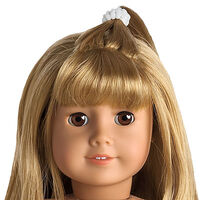 Originally, Gwen came with her hair pulled to the side in a white ponytail holder with two small pieces hanging in front and a pink headband. In February 2009, her hair was restyled to have a half ponytail near the top, and her headband was put around the waist of her dress for a headband/belt.
White eyelet lace sun dress with flower design
Pink braided sandals
Light pink panties
Pink headband
White ponytail holder
Collection
Gwen is part of Chrissa's Collection.
Trivia
The Gwen doll is similar in looks to Just Like You 12.
Gwen's story about being briefly homeless was somewhat controversial later in the year. In the story, Gwen and her mother lose their house when the Thompsons are unable to make the payments. They spend several months sleeping in the family car before they get a new place to stay through the shelter. Gwen's mother later describes her family life following their eviction and their being helped through the shelter. The controversy started when a conservative columnist writing in the New York Post in September 2009 characterized the doll's backstory as inappropriate "political indoctrination" intended to encourage children to sympathize with the homeless. Several websites and political blogs began to spread the story about Gwen's homelessness; many places gave only part of the story or only repeated what had been said at other sites. Chris Cuomo of Good Morning America reported that Gwen's story was possibly a bit too realistic for children in light of the 2009 recession, and The Early Show wrote an article called "Flap Over 'Homeless' American Girl Doll". An unnamed representative of American Girl responded:
"The doll is meant to teach tolerance and is part of an outreach program teaching young girls how to spot bullying and stand up and speak out against it."[1]
They have also stated that the dolls "offer valuable lessons about life," and are "disheartened that there has been any confusion over our fictional characters." While no proceeds from sales of Gwen and related offerings go directly to help the homeless, the company has given almost $500,000 since 2006 to HomeAid, a national nonprofit group that works to help the homeless find housing. American Girl later issued a press release along with HomeAid explaining their contributions to help the temporarily homeless.
References