This article is about the Hopscotch Hill School character. You may be looking for the Girl of the Year companion doll Gwen Thompson.

Gwen was one of the four main characters of the Hopscotch Hill School line.
Personality
Books
Doll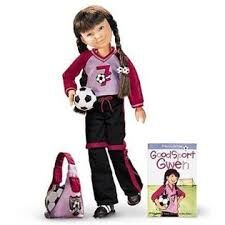 The Gwen doll was released in 2004 and retired in 2006 with the discontinuation of the Hopscotch Hill School line. The doll was available for $48 with Gwen's book.
Skin: Light
Hair: Brown, with bangs
The hair came styled in two braids.
Meet Outfit
Gwen's meet outfit was also available separately. Retail cost was $22.
Pants
Convertible black pants that turn into shorts.
Jersey
Pink and red long sleeved jersey with a number 7.
Underwear
White underwear.
Socks
Pink knee high socks.
Shoes
Black sneakers with cleats.
Journal
Round soccer ball printed journal.
Soccer Ball
Plastic soccer ball.
Backpack
Pink and red backpack with soccer ball on front.
Hair Bands
Elastics with two mini plastic soccer balls on each one.