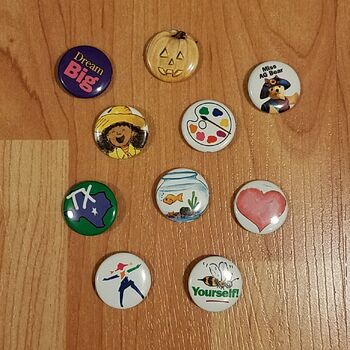 Grin Pins were a series of pin buttons released by American Girl starting in 1994 and later discontinued, with phasing out complete by the early 2000s.
Pin Overview
The pins were 1" diameter with attached pin backs. Each pin on the side was numbered per position in the collection in small print on the edge, along with copyright information.
Pins were mostly available by purchasing in packages of ten for $2. A single package was often included as a bonus free item with children's clothing purchases. The pins were randomly distributed per package.
Grin Pin Banner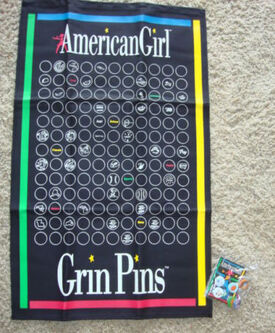 The Grin Pin Banner was sold separately for $10 and later for $12.
The banner is made of black duck cloth with the images printed on it and hemmed around. It has the American Girl of Today full logo at the top, is bordered at the top by blue, on the left by green, the right by yellow, and the bottom by red. There is space for 143 pins (13 rows by 11 columns) outlined in white circles; some spaces have black-and-white images of particular pins, while others have colored text labels for specific collections.
It was retired at the same time of the pins. It measures 19.5" x 31".
Mini Grin Pins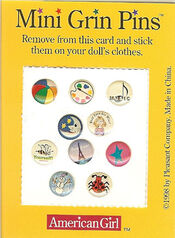 Mini Grin Pins were included with nearly all dolls' outfits and accessories to simulate the full sized pins that came with the children's clothing. Each set had ten circular stickers on a sticker backing, with images like the large pins, and were also randomly distributed.
Pin Styles
There were over 300 pins available in various styles. Many pins were illustrated with toon-like images similar to what could be seen in American Girl Magazine. Examples of pin styles include:
US States: Pins for all fifty states in the United States were made. Each state was drawn in a loose border outline, with the USPS Postal abbreviations in white text and the state capital location marked with a star. Notably, these pins are numbered 1-50 in the collection.
Holidays: Symbols of major US Holidays and months (e.g. a jack-o-lantern for October)
Bees: Bee images with positive sayings for children. In place of the word "be" was a drawing of a bee, making a visual pun (e.g. "Bee/Be Yourself").
Food: Images of food e.g. pizza, fruits, cookies.
Animals: Images of various animals.
School: Pins about school subjects and positive depictions of school (e.g. "Math" and "Spelling.").
Happy: Uplifiting messages (e.g. "Hugs," "Celebrate," or "Play")
Logo: Variations of the American Girl of Today Logo, with different colored backgrounds and/or layouts.
Sports: Depictions of various sports and activities as well as sports balls.
Friends: A series of images of cartoon stylized girl portraits.
I Love: Pins showing activities, relationships, and hobbies with I "♥" at the top and illustrated (e.g. "I ♥ You" with the ILY sign)
Advice: Pins with advice for positivity and positive change (e.g. "Be Bold," "Good Luck, ""Grow a Garden", "The Truth is Easy to Remember")
Promotional: Images and logos for American Girl products, such as Miss AG Bear, American Girl Place, and Girls of Many Lands.[1]
Miscellaneous: Various miscellaneous pins that did not fit in any specific category.
References
↑ While American Girl did release individual pin images for the first five American Girl Historical Characters, they were not part of the Grin Pin collection. This is quite possibly because the intention of the pins was to be in a modern setting.