This article is about the Girl of the Year for 2015; "Grace" redirects here. For the doll, see Grace Thomas (doll). For the book, see Grace. For the movie, see Grace Stirs Up Success. For the Historical Character, see Marie-Grace Gardner. For Kit Kittredge's pet dog, see Grace (dog).

Grace Thomas is the thirteenth Girl of the Year released by American Girl. She was released in 2015.
Character
Grace Thomas lives in Bentwick, Massachusetts with her mom, dad, and older brother Josh. She loves to go to her grandparents' bakery. Grace loves to bake and wants to start a business with her friends.
She gets a French Bulldog named Bonbon over the course of her stories.
Her friends are Maddy Eaton, an artist and Ella Petronia, a math whiz. Together the three of them create a business called La Petite Patisserie.
Books
Short Story
Movie
See: Grace Thomas (doll)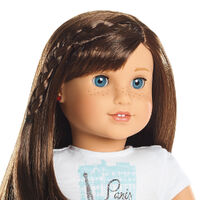 Skin: Light

Grace has freckles under her eyes.

Hair: Straight, medium brown, side part, side bangs
Eyes: Light Blue
Collection
See: Grace's Collection
See Also
Trivia
Grace is the first Girl of the Year since Kailey to not have a formal Starter Collection upon her debut. (Lindsey and Kailey did not have Starter collections due to the smallness of their collections.)
Various baking and cooking supplies, a cookbook, and apron sets were sold through both American Girl and Williams-Sonoma and initially tied to Grace; see the Williams-Sonoma Category.
References
↑

Bentwick is a fictional city.