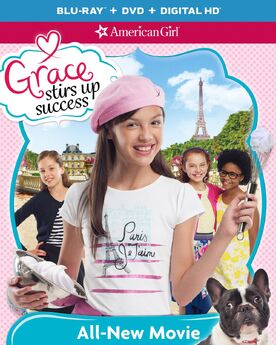 Grace Stirs Up Success is a movie retelling the stories of Grace Thomas.
Cast
Crew
US Casting by Vickie Thomas
Music Supervision by Amanda Thomas
Music by Patrick Kirst
Edited by Paul Millspaugh
Costume Design by Mary Partridge
Production Design by Inigo Navarro
Cinematography by Tim Wooster
Directed by Vince Marcello
Plot
In the town of Bentwick, Massachusetts, Grace Thomas develops a passion for baking in her grandparents' bakery. Wanting to save up for a new bike, Grace begins a small cupcake business with her friends Ella and Maddy, and it turns out to be successful. She plans to continue the business during the summer, but is asked by her mother to come with her on a trip to Paris, where Grace's aunt Sophie and uncle Bernard live and who are expecting a baby soon. That leaves Ella and Maddy to earn money another way, and they start a dog-grooming service called the Paw Spa.
Bernard owns a pâtisserie in Paris, which becomes an opportunity for Grace to improve her baking skills. She realizes quickly that it will be a challenge to work for her uncle, while at the same time, she struggles to warm to her cousin Sylvie, who also works at the pâtisserie but is uncomfortable with the extra company. As Grace's efforts at the pâtisserie get her into trouble, her mother advises her to ask Bernard what he needs help with, rather than do things herself. During their free time, Grace and her mother sightsee around Paris, also visiting the Eiffel Tower with Sophie, Bernard and Sylvie. While there, Sophie goes into labor and needs to be driven to a hospital. She gives birth to a girl, naming her Lily. Grace welcomes her new cousin, while Sylvie feels reserved about her new sister.
Lily's crying makes Grace and Sylvie restless, but it gives the two time to bond. They also help land an important client for the pâtisserie—Jean-Luc Pernaud, the owner of a hotel Bernard has been seeking to do business with. While they use a local dog, whom Grace befriends and calls Bonbon, to deliver samples from the pâtisserie, Pernaud is impressed and asks Bernard to fulfill an order for the Bastille Day celebration. In preparing the treats, Bernard is concerned that the recipes are not up to the high standard needed for the occasion. As Grace has always gone strictly by the wording in recipes and has no idea how to improve the quality, her uncle uses the phrase je ne sais quoi to describe the unique ingredients that make a recipe stand out, and Grace sees its importance. Bastille Day becomes a success for the pâtisserie, despite worries from both Grace and her uncle. As Grace's trip in Paris comes to an end, Bernard tells her that she will keep learning the je ne sais quoi, as it differs for every recipe.
When Grace returns home, she shares her experiences in Paris with Ella and Maddy, including what she learned from her uncle, but they are not cool when she talks business about their Paw Spa. Later, Grace is devastated to hear that her grandparents' bakery is going to shut down, due to a lack of customers. She comes up with a plan to save the bakery and asks Ella and Maddy to help, after apologizing over how she talked to them earlier. Her grandparents are delighted when business picks up, but then the oven fails, setting them back.
Grace gets a huge break when she is selected to be a contestant on MasterChef Junior Baking Edition, unaware that her grandmother submitted an application on her behalf. The prize for winning is $100,000, enough to save the bakery and replace the oven. Despite gamesmanship from one of her competitors, requiring her to improvise her signature dessert, Grace makes it into the finals of the competition. Reminded about the je ne sais quoi lesson from her uncle in developing her next dessert, Grace impresses the judges again and wins.
Bernard, Sophie, Sylvie and Lily fly to Bentwick to congratulate Grace, surprising her even more when Bonbon appears. The community, having watched Grace on Masterchef Junior, comes to support the bakery, with Bernard giving business a boost for the celebration.
Movie/Book Differences
Character Differences
Sylvie is not fluent in English in the books. In the movie, she is.
Mr. Hammond, Destiny, and other characters are not in the movie.
In the movie, Bonbon is a male dog while in the books, Bonbon is a female dog.
Plot Differences
Grace was not on MasterChef Junior in the books. Instead, she submitted a recipe for a baking contest and received a phone call announcing she won.
Grace didn't take Bonbon home in the movie; when her French relatives visited Bentwick, they brought Bonbon along, though it is unclear whether or not Grace got to keep him. In the books, Grace picks up and keeps Bonbon.
While Grace was in Paris, her friends started a dog grooming business. In the book, they start a dog-walking business.
Grace and Maddy don't argue about making their business right in the movie. Instead, Grace feels left out that her friends want to do the business without her and insists they won't be able to handle it on their own, which offends Maddy.
In the movie, Grace, Ella, and Maddy started a cupcake business before Grace left for Paris. In the books, they started a French-baking business after Grace came back from Paris.
In the movie, Grace tries to get Jean-Luc Pernaurd to hire Uncle Bernard; this is not present in the books.
In the movie, Sylvie gives Grace a French dog charm before Grace left Paris. In the books, Colette gave Grace the charm on the latter's last day at work.
Television Release
The movie aired on Family Channel in Canada on November 20, 2015 and Disney Channel in America on June 11, 2016.
Home Video Release
The movie was released digitally on June 9, 2015.
The movie was released on DVD and Blu-ray on June 23, 2015.
Bonus Content
The following extras are provided with the home release version; they are also available when purchasing the high-definition version on iTunes with the iTunes Extras feature.
Girls About Town (Blu-ray only)
Meet Bonbon (Blu-ray only)
MasterChef Junior
Doggy Day Spa
Playing Dress Up
Items Associated With the Movie
Links
References
Community content is available under
CC-BY-SA
unless otherwise noted.