This article is about Kit Kittredge's pet dog. For the 2015 Girl of the Year character, see Grace Thomas.
Grace is Kit Kittredge's pet basset hound.
Facts
In the Books
Unlike in Happy Birthday, Kit! where Kit and Stirling first encountered Grace, the dog was introduced in the scene where Kit and her mother were strolling downtown. Kit eventually adopted the dog despite her mother initially showing her disapproval. Grace was also named as such when she was introduced in the film, where as in the books it was Aunt Millie who came up with the name.
Grace (also known as Grace the Bassett Hound) was originally released in 2001 at a cost of $16. She was originally part of Kit's birthday collection and was initially sold with a party hat. The hat was removed in 2007 and the cost was raised to $18. The price was later raised to $22. Grace retired in 2018.
Dog
Brown and white basset hound plush/fleece dog. Tan/brown back, ears (ears are lined with felt), sides of face, and majority of tail; white rest of body, tip of tail, and back diamond marking. Black and brown plastic safety eyes under drooping lids with black edging. Black cloth nose. Embroidered brown freckles on her muzzle. Embroidered brown paw markings.
In 2016 she was changed to have embroidered brown eyes instead of attached plastic eyes.
Hat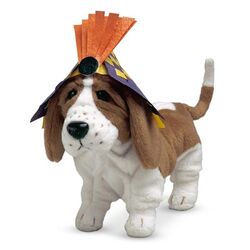 This was removed in 2007.