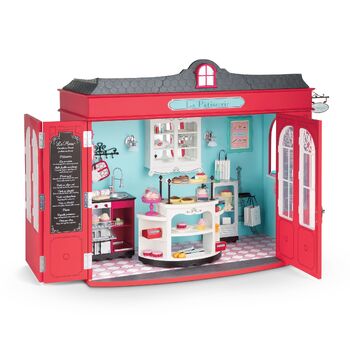 Grace's French Bakery is part of Grace's Collection and, like her, was retired at the end of 2015. The retail cost was $500.
Bakery
Wooden three-dimensional bakery.
Exterior is bright red with accents of black, white, and pale blue. Front wall consists of two large double-hinged doors, each with a narrow side panel hinged to the side wall and a wider center panel hinged to the outer panel. Side door panels each have a black "chalkboard" menu on both inside and outside with white curlicues and white script written text:
Le Menu

Our delicious French pastries and breads

Patisseries:
Les Macarons (Sweet meringue filled with a creamy ganache)
Mille-feuilles aux fraises (Strawberry-layered puff pastry with vanilla-flavored cream)
Plaisir sucre (Chocolate sheet layers with chocolate cream, topped with a toasted hazelnut)
Tarte au citron vert (Lime tart with marshmallow cream topping)
Tarte au chocolat (Rich chocolate tart topped with a raspberry)
Tarte au framboises (Raspberry-filled custard tart)
Pain au chocolat (Hand-rolled, flaky chocolate-filled croissant)

Pains:
Baguette parisienne (Long white loaf bread with a crispy crust)

Pain aux olives (Long white loaf bread with olives)
Center panels each have two half-arched windows with white trim and mullions; "glass" has heart and curlicue raised designs in the curved top panes. Decorative paneling work is simulated on doors with darker red lines. Light aqua La Patisserie sign centered above the doors (sign is rectangular with curved shaping at each end). Silver door handles in the "French" lever style.
Floor of bakery extends slightly past the front doors when they are closed, this forms a small, curving front step patterned with charcoal-grey bricks. Centermost brick has the American Girl logo hidden in the pattern.
Simulated mansard roof is with curving pieces that come detached from the case and are assembled upon arrival. Roof pieces are printed with curved shingles the same color as the front-step bricks.
Rectangular window in left side wall of bakery; like the front windows it has white trim and mullions. Arched pickup window on right side, this is open with no glass and has a protruding white shelf. Black bracket above and toward the front from pickup window, when assembled this holds another "La Patisserie" sign, this one oval shaped and hanging from a black scrollwork frame. Bakery interior is painted a light aqua, with pink and white diamond-shaped tiles accented with black dots and stylized black hearts as flooring.
White "glass"-fronted cupboard attached to center inside back wall, cupboard has three shelves and two doors and is decorated with black curlicues, backing of cupboard is covered in a silver holographic bubble print. Two silvery sconce lights with translucent white cone-shaped shades attached on either side of cupboard. Black wrought-iron (plastic) utensil rack and clock with hot pink scalloped frame to left of cupboard, darker aqua poster frame and black Eiffel Tower-decal to right of cupboard. Small pale pink scroll-work basket attached to inside right wall below pickup window. Semicircular black shelf with two hooks for hanging bags installed over decal; clear glass (plastic) shelf in center of left side window.
Kitchen Unit
Combination oven/sink/counter/storage unit.
Black and silver "marble" countertop with silver plastic round "sink" on right side. Sink faucet comes packaged separately from kitchen unit and has a moveable "sprayer" and knob to be attached.
Bottom of sink is concealed by a false drawer panel above the two-compartment, red plastic open shelf section. Left side of unit has a small oven with glass (plastic)-front door above a large cabinet, both of silver plastic. Double cabinet doors and horizontally hinged oven door have long black ornately shaped handles identical to the handle on the refrigerator. Three red knobs above oven door. Center knob has white marks around the edge and clicks when turned, side knobs turn freely.
Single gray plastic slide-out rack inside oven.
Refrigerator
Light gray glass (clear plastic)-front mini fridge.
Two white plastic shelves inside creating three compartments. Rectangular front window has curved notches at corners for a fancy effect. Door hinges on right side; long vertical black handle on left side to open door. Three molded vent slots in door below window. Square base of fridge is a dark gray plastic. Molded plastic heat coil detail on back.
Display Case
Curved white multi-shelf display case.
Center section has two large compartments separated by a single white shelf and framed by a slightly scalloped opening accented with a black curlicued heart at the top. Side sections each have two white quarter-circle shelves beneath the counter level; upper of these shelves is positioned slightly lower than center section's shelf. Each section is topped by a white faux-marble counter; center section has a slightly higher counter than side sections. Wide black trim around bottom of case. Clear glass (plastic) shelf suspended above center counter by four ornate black legs. Back of case is slightly indented at center section for doll to stand behind it.
Side sections are closed off by back walls, but center section shelves are accessible from the back. Above those shelves is a shallow functional drawer, contoured to fit the curved indent, with a silver pull knob.
Flour Box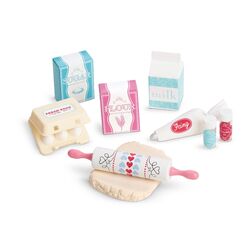 Flour packaging.
Pink and white cardboard box labeled "FLOUR, Net wt 5LB (2.27Kg)" above a stylized pink wheat motif. This is very similar to the one in Grace's Baking Set except for color and for wheat instead of almond flour.
Sugar Box
Sugar packaging.
Aqua and white box labeled "SUGAR, Net Wt 5LB (2.27Kg)" above an aqua-and-white graphic of a scoop of sugar.
Sprinkle Jars
Two jars of faux sprinkles in aqua and red. Each label has a small American Girl logo and "Sprinkles" written in white script, surrounded by white curlicues. The labels also list the sprinkles color; "RED" in the red-labeled jar and "SILVER" in the aqua-labeled jar. Jars have white plastic lids and non-removable loose "sprinkles": large shiny sequin-shaped sprinkles in the silver jar, and tiny round sprinkles in the red jar.
Pastry Dough
Molded blob of pastry dough, shaped as if in the process of being rolled out. Cracks and texture molded into the plastic and painted white flecks of "flour"
Pastry Bag
White vinyl cloth pastry bag with silver plastic tip. Oval-shaped label on one side, reading "Icing" in white script. Bag is tied with a white rubber band but cannot be opened. Squishy texture to simulate icing inside bag.
Milk
Carton of milk. Carton is white on top and bottom, and light aqua with white curlicue details on the sides. White rectangle containing aqua "milk" in all-lowercase letters on one side.
Eggs
Off-white plastic egg carton with rectangular indent on top for label. Label reads FRESH EGGS: 6 Large Eggs Grade A in dark magenta letters on white, surrounded by a pale blue border. Carton opens to reveal six white molded-in eggs that cannot be removed from the carton.
Mixing Bowl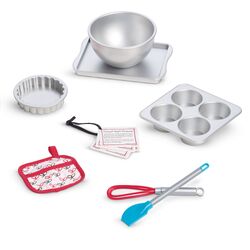 Silver plastic mixing bowl. Light aqua label on outside rim with La Patisserie in black script; this is a smaller version of the sign on the front of the bakery.
Whisk
Whisk. Silver plastic handle and red rubbery plastic molded wires. Silver plastic loop on end of handle for hanging whisk on a hook.
Spatula
Rubber scraper. Scraper portion and hanging loop are of dark aqua rubbery material, handle is silver plastic.
Hot Pad
Small quilted fabric hot pad. Main body of pad is made of white fabric printed with stylized bows in red, pink, and black. Edge trim, looped handle, and one stripe across the pad are made of bright red fabric.
Baking Sheet
Silver plastic rectangular baking sheet. Short ends have double-curved edges for handles.
Tart Pan
Scalloped-edge round silver plastic pan. Flat bottom and raised rim. The included tarts and tarts with other collection playsets are designed to fit inside.
Cupcake Pan
Silver plastic "cupcake tin". Four indentations. Included cupcakes and cupcakes from other collection playsets will fit inside.
Rolling Pin
White rolling pin. Pink handles. Design printed in the center has three rows of hearts (two pale blue rows flanking a single red row), bordered on each side by dark magenta rows of dots and black curlicues.
Cupcakes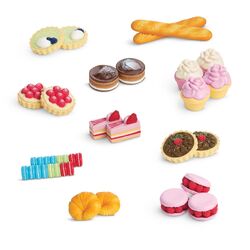 Four cupcakes. Two are pale brown (vanilla) with pink frosting; two are pink with white frosting. Each cupcake's frosting is molded into the shape of a flower atop the cupcake. These fit into the cupcake pan or the cupcake boxes.
Croissants
Two croissants.
Macaron Stacks
Two stacks of macarons (French sandwich cookies). Each stack contains four aqua, two pale green, and two red macarons fused together.
Baguettes
Two baguettes (long loaves of French bread).
Chocolate Tarts
Two tartelettes (medium sized tarts). Each filled with chunky-textured chocolate cream and garnished with a red raspberry and a sprig of green leaves. These fit into the tart pan or the tart boxes.
Berry Tarts
Two tartelettes. Each filled with swirled off-white custard cream and topped with a cluster of seven red raspberries. Points of raspberries are tinted a lighter pink to resemble sprinkled powdered sugar. These fit into the tart pan or the tart boxes.
Lime Tarts
Two pretend tartelettes filled with a flat layer of pale green (lime) cream and drizzled with curlicues of white icing. Garnished with a scoop of white cream and a cluster of berries in dark blue--two blueberries and a blackberry. These fit into the tart pan or the tart boxes.
Pink Macarons
Three raspberry-filled macarons, each consisting of two large pink cookies sandwiched around a layer of red raspberries. Plastic between the molded raspberries is colored red to simulate juice.
Strawberry Bars
Two mille-feuilles (layered pastries). From bottom to top, these consist of a layer of textured tan crust, three thin layers of, respectively, pink strawberry-colored cream, red strawberry syrup and off-white vanilla cream, another layer of crust, then a thick layer of the pink cream. The top of each bar is garnished with half a strawberry (green leaves still attached), a sculpted heart-shape of pink cream, and three radiating lines of red syrup.
Pastries
Two round chocolate pastries. From bottom to top, each has a layer of textured chocolate crumb crust, a layer of textured white cream, two light chocolate smooth layers sandwiching a textured light chocolate layer, and a smooth dark chocolate glaze on top. A textured scoop of chocolate cream decorates the top of each pastry, tinted white on top to simulate powdered sugar.
Sparkling Water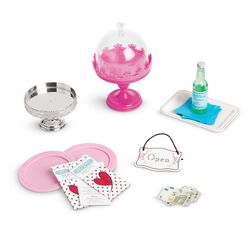 Light aqua-green transparent bottle of sparkling water. Silver plastic lid with stylized heart printed in white. Light blue label with white border and two narrow stripes (medium blue and black) as edge trim, label reads Sparkling Water in aqua text. Below the text is a dark magenta curlicue, and below that is the amount: 1 PT (673 mL) in the same aqua as text.
Plates
Two pale pink plastic plates with raised curlicue detailing around rims.
Napkins
Five aqua-blue paper napkins.
Pastry Dome
Clear plastic pastry dome on a hot pink stand. Dome has a molded clear heart-shaped handle on top, stand sits on a round-based pedestal with beveled details. Upper edge of stand is ringed with fancy curlicued scallops of the same pink plastic.
Serving Plate
Rectangular off-white platter. Silver raised dots around rim. Pink curlicues and hearts printed in center of platter.
Stand
Shiny silver plastic display stand. Round-based pedestal similar to the pink dome stand, raised dots and ridges detail around the upper rim.
Money
Five five-euro notes.
Paper Menus
Three brochure-shaped menus. Covers are printed with a design of black dots and red hearts on a white background. Large red stylized heart outlined in black in center of cover. White rectangular title box above heart, box has thin black borders. Light aqua La Patisserie logo and MENU in black text. Inside the menu is white with black script; text is identical to text listed above on the bakery doors.
Recipe Cards
Five recipe cards. They are tied on a black ribbon loop. Each card is white with dark magenta scalloped border surrounding recipes printed in black script.
Sign
Small white rectangular sign with curved edges. Each side has black borders and dark red curlicues framing fancy black print: Open on one side and Closed on the other. Black cord loop to hang sign on doorknob.
Poster
Reversible poster to fill the frame on bakery back wall. One side is pale pink with black curlicues at each corner and fancy light-aqua border.Graphic of pink, yellow, and aqua macarons with chocolate filling, stacked on a light aqua platter with a pink bow. Black-outlined aqua text above graphic reads "BON APPETIT", small hot-pink text below graphic contains the American Girl logo. Other side of poster is a blush pink with beige border and fancy black edge trim. Aqua "La Patisserie" logo in center of poster, three pastry drawings above and three below logo. Drawings are outlined in black and colored in shades of tan, pink, and white: "Petit Four", "Madeleine", "Cupcake", "Baguette", "Macarons", and "Croissant". Lighter pink ovals behind each pastry, allover curlicue pattern in same pink decorates the background.
Cupcake Box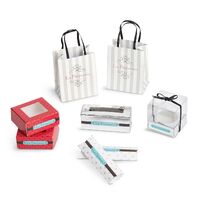 One cardstock-and-plastic cupcake box like the one in Grace's Pastry Cart. Base of box is silver on the outside, white on the inside with light aqua "La Patisserie" logo, lid is clear plastic with a decorative black ribbon tied in a bow at the top. Designed to hold one cupcake in a circular indentation within the box.
Macaron Box
One silver cardstock macaron box. Clear plastic window on top. Black stripe across front of box with light aqua "La Patisserie" logo at center. Inside of box is white. This box can fit one of the macaron stacks.
Tart Boxes
Two red cardstock tart boxes printed with alternating black hearts and dots. Square clear plastic window in each box lid. Black stripe across front of each box with light aqua "La Patisserie" logo in center. Insides of boxes are white. Each box can fit one tartelette.
Baguette Sleeves
Two white paper sleeves with scalloped edges. Each sleeve is printed with beige dots, a black stripe parallel to long edge of sleeve, and a light aqua "La Patisserie" logo in center of stripe. These fit over baguettes.
Shopping Bags
Two paper shopping bags. Bags are printed in white and beige vertical stripes; front of each bag says "La Patisserie" in dark magenta text framed by black curlicues. Two black ribbon handles on each bag.
Trivia
Grace's French Bakery was one of the the largest items and most expensive items ever created from American Girl.
Grace's French Bakery has so far been the quickest item to sell out in the history of the Girls of the Year line, retiring and not being restocked on October 3, 2015.
Many of the pastries and pastry packaging are interchangeable with items from other sets, most notably Grace's Pastry Cart.
Community content is available under
CC-BY-SA
unless otherwise noted.