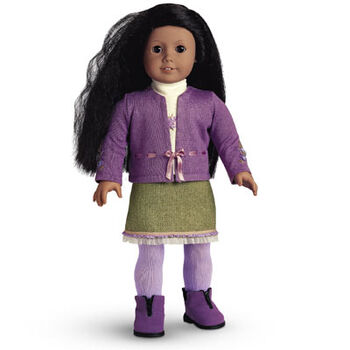 The Go Anywhere Outfit was the fifth meet outfit in the American Girl of Today line. It replaced the Urban Outfit in 2002 and was later replaced by the Ready for Fun Outfit in 2004.
Outfit
The outfit was available for purchase separately for $24.
Top
Ivory cap-sleeved mock-turtleneck tee-shirt. Purple sequined flower on the front with gold leaves. Velcros up the back.
Cardigan
Purple long sleeved cardigan. Ribbon tie woven in near waist. Blue, pink, and purple flower embroidery work (with green leaves) on lower sleeves.
Skirt
Olive green tweed-look herringbone skirt. Purple and ivory ribbon trim with sheer ivory ribbon. Velcros on the side.
Tights
Purple tights.
Boots
Purple faux-suede short boots with black zippers. Purple trim.
Panties
Lavender underpants.
Accessories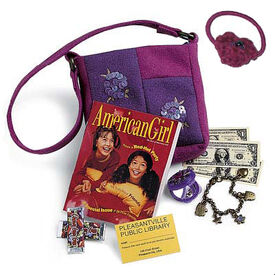 The accessories were available for purchase separately for $18 or bundled with the doll for a discounted price.
Purse
Purple and pink color-block purse.
Gum
Two sticks of pretend chewing gum.
Library Card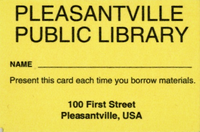 Yellow paper library card. Measures 1 x 1.5". Text:
Pleasantville Public Library
Name: ______________________
Present this card each time you borrow materials.
100 First Street
Pleasantville, USA
Carried from Mix and Match Accessories.
Compact
Purple mirror compact.
Dollars
Three miniature $1 notes
Magazine
Miniature American Girl magazine
Ponytail Holder
Crochet ponytail holder.
Bracelet
Metallic charm bracelet. Heart, star, flower, and Coconut charms
The children's outfit was available:
Cardigan: $38
Mock Turtleneck Tee: $26
Skirt: $34
Charm Bracelet: $16