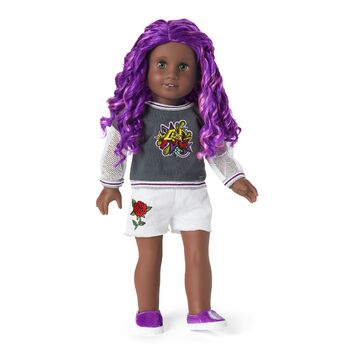 The Girly Graffiti Outfit is one of the unique meet outfits for Truly Me dolls, released in 2021. It is part of the Street Chic Collection.
The outfit is only available with Just Like You 91 and pairs with the Chic and Stylish Accessories.
Shirt
Grey and white mesh knit shirt. Main body and short sleeves are dark grey sweatshirt knit; longer undersleeves of white mesh. Center front has logo of AG and logo stars along with drops and lines in graffiti style. Silver, white, and purple ribbing trim on collar, cuffs, and hem. Closes at back with velcro.
Shorts
White denim shorts. Fringed hems. Functional hip and back pockets and belt loops. Fronts have slight distressing. Right side has embroidered red rose with green stem and leaves. Velcro closure at fly.
Shoes
Purple vinyl molded shoes (in similar shape to the Sparkle Sneakers). Multicolored glitter on top part of shoe and white soles.
Panties
Light pink panties with white trim.
Book
Copy of the book Friends: Making Them and Keeping Them.