Jurassic World: Dominion Dominates Fandom Wikis - The Loop
Play Sound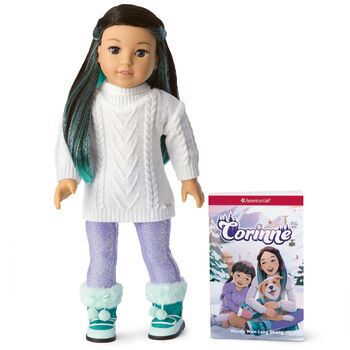 Girls of the Year, also known colloquially as Limited Edition dolls, are dolls and characters that are available on a limited basis.
Originally characters were only available for one year before retirement[1] but, starting with Gabriela McBride, remain available for approximately two years. Originally, the line was classified as part of the American Girl Today collection, but with Jess McConnell the line was separated into its own collection.
Girls of the Year were introduced in 2001 with Lindsey Bergman.
List of Girl of the Year Characters
Girl of the Year Companions
In 2009 Chrissa Maxwell came with two companion dolls, the first time that a Girl of the Year came with any other accompanying dolls. This was predominantly because Chrissa's story emphasized friendship. Her two companions were:
Each doll came with the American Girl book Friends: Making Them and Keeping Them, the only time a character doll has come with a nonfiction book; there were no additional stories from their viewpoint or unique items for them in Chrissa's collection. With the retirement of the Best Friends side line, companions for a Girl of the Year are almost never released, though characters continue to have friends mentioned prominently in stories and some were shown in MegaBloks releases.
In 2022, Corinne Tan was accompanied by her younger sister:
Traits of the Girls of the Year and Collections
Girls of the Year are always characters that originally are about nine to twelve years old (with an average age of ten), with stories set in modern-day America during the year of her release.[2] The character is given a story that expands on her personality, a specific situation she is involved in, relevant social issue, and/or her personal hobbies. This creates an overarching theme for the year which is expanded in the collection.
While the line started modestly, Girls of the Year now have sizable collections including multiple outfits and often one large "fancy" item. Originally the largest item was furniture such as a bed, but nowadays varies into high-priced playsets (such as rainforest style huts, bakeries, faux space habitats, or vehicles) that generally have a multitude of accessories.
Lea and Gabriela were also available through other retailers; packaging was initially adjusted to accommodate this and provide secure display product for other retailers.[3] Gabriela's packaging was modified to open on top with a clear-front plastic opening. The doll slid out connected to a colorful cardboard backing; her first book, instead of laying on top of her, is tucked behind her. Outfits were packed in clear front boxes with contrasting thread to secure items; accessory sets were (and continue to be) packaged in closed boxes and sealed shut, with the items shown on a front image. However, this packaging was panned by consumers and, other than being used for Contemporary Characters and selected accessory sets, packaging has reverted to the clear-window style doll box and solid cardstock boxes for outfits. After Gabriela, Girls of the Year were no longer available at secondary markets save for limited Costco bundles.
In 2012--at the release of McKenna Brooks--older character pages began to be removed from the site. In 2015 Lindsey, Kailey, and Marisol were temporarily removed from the Girl of the Year Archives and no longer seen on the site; they were later restored. For some time, no characters further back than ten years were on the main Girl of the Year site; the oldest was removed soon after the release of the next character. Starting with Blaire, the page focused solely on the current Girl of the Year and older characters were listed on the intertwined character page (link) that includes Girls of the Year (as far back as Mia), Contemporary Characters and Historical Characters; the main girl of the Year page has been recently depreciated, with no updates to the specific Girl of the Year Site as of 2022 since the release of Blaire.
Since 2018, each Girl of the Year (Luciana, Blaire, Joss, Kira, and Corinne) have had designs as part of the Create Your Own clothing designer; these designs only are available during their duration as the primary character of the year.
Books
The Girl of the Year comes bundled with a book, much like Historical and BeForever characters. The books are targeted to ages eight and up. Originally books were smaller at only about five or six chapters and a little longer length than a Historical Character central story; they later expanded to roughly ten short chapters each. With the release of Grace Thomas, books no longer had illustrations (much like BeForever books) and consisted of about thirteen to fifteen chapters, telling a longer and more involved story. Starting in 2014 or so, books became available in both e-Book and physical books. With Joss, illustrations returned (as they had returned to the Historical line).
Starting with Nicki Fleming, Girls of the Year started to receive multiple books. The first book is bundled with the doll and any additional books are available separately. The additional books expanded the story and allows for a more rounded image of the character through the year. For several years, books had an after-story section which discussed real-life girls who have done the same things the character has done; for example, Nicki's books talk about other girls who have worked with service animals, Mia's had a question and answer section about sports, and Chrissa's had a question-and-answer section about friendship and bullying. The books are all written in first person narrative from the viewpoint of the main character.[4] With Isabelle, three books were available as well as a short story e-book. Three books and e-shorts continued with Grace and Lea, but no e-shorts were made for Gabriela, and books were reduced back down to two with Blaire.
Originally, American Girl kept all prior books in stock for purchase. Starting with the release of McKenna Brooks, American Girl began to phase out older books when the books Lindsey, Kailey, Marisol, and Jess were retired from direct sale. Books then started to be phased out or placed on sale for clearance after approximately three to five years after initial release.
Staring in 2017, Scholastic took over publishing the main books for all Girls of the Year and the new Contemporary Characters[5]; this was ended in 2019.
Movies
Chrissa Maxwell was the first Girl of the Year character to receive a movie, Chrissa Stands Strong. Movies were not released again until McKenna Brooks and her movie, McKenna Shoots for the Stars, but were consistently released through Lea Clark. While the doll's collection was mostly released on January 1, movies generally did not premiere until closer to the summer.
Movies were made available on Blu-Ray and DVD formats[6] and were originally also broadcast--frequently on NBC--with commercial interruptions after the home release.[7] Grace and Lea's movies were launched straight to DVD/Blu-Ray.
No character after Gabriela has received a movie; full-length movies have mostly been phased out for new media distribution (such as shorter Amazon Prime Specials). This is likely due to the costs of filming and distribution.
Yearly Campaigns
Starting with Nicki, American Girl has held contests and/or campaigns to promote the Girl of the Year and themes in the collection.
Nicki was a Real Girl 2007 contest to promote girls who were helping in service ways.
Mia was Real Girl 2008 of girls who performed in inspiring ways.
Chrissa was part of an anti-bullying campaign and American Girl partnered with the Ophelia Project. The organization dissolved in 2014.
With Lanie, American Girl partnered with the National Wildlife Federation and the Be Out There™ Movement to encourage appreciation of nature and outdoor activities.
With Kanani, American Girl partnered again with the National Wildlife Federation to raise awareness of endangered animals and promote wildlife preservation as part of the Shine On Now campaign.
McKenna was part of an initiative aimed at increasing childhood literacy with Save the Children's U.S. Literacy Program.
Saige's release included an arts contests for girls, a school grant contest for elementary arts teachers, and activities developed with Americans for the Arts.
Isabelle's release included an online sweepstakes contest for girls, but no noted partnerships with campaigns for dance or design.
Grace's release had American Girl launch a yearlong fundraising initiative, "For Goodness, Bake!", to support Share Our Strength's No Kid Hungry campaign to relieve child hunger in America.
Lea's release included an arts campaign, Wild at Art, along with a yearlong partnership to support the World Wildlife Fund.
Gabriela's release included a partnership between American Girl and Scholastic to create a custom curriculum program, "Express Yourself," on using poetry as a tool of self-expression.
With Luciana, American Girl, along with Scholastic, NASA, and Space Camp, helped fund the Blast Off To Discovery program, which included STEM-based lesson plans and activities. American Girl and Scholastic also hosted a Mission to Mars sweepstakes with the grand prize trip to Space Camp.[8]
With Blaire, American Girl was not connected to any major programs or partnerships, but emphasized themes of farm-to-table meals, food allergies and sensitivities, and food preparation.
With Joss, American Girl donated $25,000 to the non-profit Hearing Loss Association of America (HLAA) to support educational programs.[9] Additionally, through December 2020, purchasers could make a $1, $5 or $10 donations through the site and at stores. A promotion, "Walk With Joss", with the Walk4Hearing was intended to be held in person in twenty cities, but was moved to a virtual walk due to the COVID-19 pandemic. The contest, "Walk With Joss" was made available online and children ages five through twelve could apply to potentially win the doll and accessories.
With Kira, American Girl partnered with WIRES (NSW Wildlife Information, Rescue and Education Service Inc.), the largest wildlife rescue organization in Australia, with purchasers able to make a $1, $5 or $10 donation and the company matching up to $25,000.
With Corinne, American Girl is partnering with AAPI Youth Rising, a youth-run organization to combat anti-Asian and Pacific Islander discrimination. Donations of $1, $5, and $10 can be made with American Girl having donated $25,000 to the ONE/180 pledge, asking schools and teachers to teach at least one day of Asian American history and culture during the school year.
Character Availability Timeline
The Girl of the Year is released on January 1st (regardless of which day of the week it is)[10] with at least one and now both[11] books about her, extra outfits, and accessories. A "large" furniture or playset item started to be released at launch as well, generally of a cost over $200 US.[12]. Originally a "starter collection" of the doll with some of her beginning outfits and a few accessories came bundled at a discount. This was partially discontinued, though notable exceptions include McKenna and Lea, who had starter collections with exclusive outfits. Joss later received "Joss's Ultimate Collection," though there was no discount in items, as did Kira. Grace, Gabriela, and all characters after her have not received a Starter Collection upon their debuts, though they could be bundled with accessories at a slight discount; there have been some grouped collections which may have minor discounts.
At least one child-sized outfit is released, generally the meet outfit with any modifications needed (for example, Nicki's meet outfit was separated into a top and skirt instead of the bodysuit the doll received).[13] Recently, this has been limited only to the character's pajamas.
During the first three days of release at American Girl Place locations, various events are held for the Girl of the Year, including activities. Starting with McKenna's release, a small giveaway item was offered as well, only available at the stores; no purchase is needed, but it is only offered the first three days of release to visitors. Saige and Isabelle received white t-shirts with their personal name and matched logos. With Grace and Lea, the items came in unique envelopes.
McKenna Brooks: Duffel Bag
Saige Copland: Decorated Logo T-shirt
Isabelle Palmer: Decorated Logo T-shirt
Grace Thomas: Red Chef Apron
Lea Clark: Pink Beach Sarong
Gabriela McBride: Boombox Notebook
Luciana Vega: Decorated Logo T-shirt
Blaire Wilson: Striped Apron
Joss Kendrick: Orange Drawstring Bag
Kira Bailey: Brown Sling Bag
Corinne Tan: Poster and Stickers
Later in the year, near the summer or early fall, a second set of items is released. Lindsey's and Kailey's collections were small and so had no additional releases. Jess and Marisol had their larger items, Marisol's Spotlight Stage and Tiara and Jess's Motor Scooter and Helmet, released mid-year. From Nicki onward, large items were released at launch[14] and the second fall release is generally a single additional outfit and a related accessory set.
After the second release, a character's "whole world" collection originally become available for purchase; this included every item available for the doll and all books bundled at a discount. Chrissa was not given a whole world set which was assumed to be because of her companion dolls. Lanie was also denied a Whole World Collection. Kanani received a Whole World collection, but no character since her has received Whole World Collections; this is likely due to the prevalence of larger, big ticket cost items in collections.
Occasionally, items that are not specific to the stories or character outfits but connected to the collection are released for children; these generally involve shirts and accessories, some based on the character's items.
All items in the collection originally remained available through about November or December, though larger items may begin to sell out in October.[15] Previously, starting in November any items that become sold out were retired and not restocked; the entire collection, regardless of any remaining stock, was officially retired after December 31st and no longer made available to purchase. The character was then also listed on the American Girl Archives. For a short period of time, outfits and items were rereleased for the Truly Me line in sales post retirement, but were modified or had missing components; these generally sold quickly. [16]
The first break from this after Kailey was Gabriela, who remained available until December 2018. The current method is to keep the doll and multiple items available for about two years, with items being allowed to be sold out in the next following year. Regardless of the prior availability of the previous character, the new doll and collection is not released for purchase until either the last days of December or January 1st of a new year (barring early release parties). For a while post-retirement, books and other media (such as movies) remain available through American Girl for purchase.
MegaConstrux Sets
In 2016, American Girl partnered with Mega Brands, a subsidiary company of Mattel, to create various Mega Bloks sets (later rebranded as MegaConstrux). Girl of the Year sets focused on Nicki, Mia, Lanie, Kanani, McKenna, Saige, Isabelle, Grace, Lea and Luciana. McKenna, Saige, Isabelle, Grace, Lea and Luciana had sets that include friends or family mentioned in their stories. These were later discontinued.
Criticisms of Girls of the Year
There are several major criticisms of the Girl of the Year line.
Company Overemphasis
With the focus by American Girl on the Girl of the Year Line--particularly the original emphasis that she and her items were only available for one year--other lines, such as the Historical Characters line, suffered in lack of focus. Many American Girl Place locations give larger or more dominant display space to the Girl of the Year, emphasize the character more prominently (barring any other product launches or changes), and items and meals in bistros generally focus on the character. With the BeForever rebranding and continued emphasis on the Historical Characters post, this has been less of a concern but is still brought up frequently.
Lack of Character Ethnic/Racial Diversity
There has been a considerable lack of diversity through the life of the product line. In the years since the launch of the line in 2001, the following characters have been of color: Marisol Luna, Jess McConnell, Sonali Matthews, Kanani Akina, Gabriela McBride, Luciana Vega, and Corinne Tan. Of these characters, only four characters--Marisol Luna (Latina, specifically Chicana/Mexican), Gabriela McBride (African American), Luciana Vega (Latina, specifically Chilean)[8], and Corinne Tan (Chinese)--have not been either white or partially white. Jess and Kanani's stories each explicitly state that they have one white parent (Jess's father and Kanani's mother). Sonali is said in books to have a South Asian (Indian) mother (her father is not specified), but she was a companion to Chrissa's collection and not a main character.
There were no fully Latina-identifying characters released for several years after Marisol; Lea is marked as one-eighth Brazilian through heritage, but does not personally identify as Latina (and in the movie was played by a white actress). Corinne Tan is the first Girl of the Year not to be East Asian and white biracial, though she has a mixed race blended family with a white stepfather.
Not all cultures have been represented fairly: no South Polynesian characters that have not been white-biracial and no Native American or Middle Eastern/North African characters have ever been released in the line.
Critiques to the company about a lack of diversity in the Girls of the Year Line have frequently been dismissed, often with customer service suggestions that consumers may look towards the Historical Characters or Truly Me lines available (and later, the Create Your Own) for diversity in purchasing items. However, these problems discussed are specifically with the Girls of the Year line, where each character receives the large focus (and originally the launch on the first of a new year) and are given full characterization in books and themed modern-day collections.
American Girl stated in September 2020 that they would be launching a new contemporary line emphasizing Black characters and other modern characters of color in fall 2021.[17] This is now the World by Us line. There have also been cultural additions to the Truly Me line, including the World Traveler Collection and cultural holiday celebrations.
Theme Repetition
The line has seen a frequent repetition of themes. Of the various main characters, three--Marisol, Isabelle, and Gabriela--have all had themes include ballet dance and each one was given ballet or dance outfits (even though both Marisol and Gabriela only had ballet-style dance as minimal plots and interests in the stories). Both Nicki and Saige had a collection that in part centered around a horse and the character's interaction with them, and had a large horse as part of the collection. Both Nicki and Corinne have skiing aspects, though with Corinne it is a major aspect rather than the add-on it was for Nicki. Most collections focus in part on pets and animals, traditionally feminine activities, or non-science pursuits. The closest to a character that focused on STEM (Science, Technology, Engineering, and/or Mathematics) before Luciana's collection was Kailey's interest in saving tide pools and Lanie's personal interest in animal biology; however, Kailey's collection did not discuss anything STEM[18] and Lanie's collection items and themes focused more on outdoor play and camping.
The lack of activity/theme diversity has led to complaints that character ideas are being recycled and not branched out past typical themes of dance, art, and/or animals. Luciana was touted, however, as a STEM character; her collection shows deep emphasis on space exploration, astronomy, and aspects of engineering. Mia was the first character to be heavily into sports to the degree that the sports shown in her collection are part of her stories (as compared to Nicki's skiing, which was not a significant plot of her stories); Joss is the second, followed by Corinne.
Repetition in themes can be partially explained by the target audience; as children are introduced to the brand, they likely do not remember previous Girls of the Year or their themes, so a theme that appears repetitive to older collectors is new to a younger child. (For example, a ten year old child in 2022 would be born in 2012, and so would be very unlikely to remember the skiing components of Nicki's collection as they were not born and thus not notice the small similarities to Corinne's collection.)
Limited Availability
Starting with Marisol's release, characters were emphasized as being only available for a single limited calendar year. This led to the frequent complaint that consumers who received or purchased a Girl of the Year for a December holiday celebration--often without knowing the limited time of the collection--would have only a short time to purchase additional items, running the risk of not being able to purchase much from a specific character's collection if anything. This was especially prominent if items or dolls had retired early in December before the bulk of the holiday purchasing season; for example, Nicki and Mia dolls sold out very early in December.
This was partially addressed with Gabriela being available into 2018, and currently, this has been carried forward for characters after her; characters and their collections are now available for two to three years before being retired, with items slowly being allowed to sell out after the second year of availability.
Gabriela and Tenney
It is heavily theorized that Gabriela McBride was a last-minute shift by the company into being the Girl of the Year. Her Truly Me look-alike, #46, was pulled from purchase availability shortly before her launch; consumers who had purchased #46 within a short time frame of her launch were sent an offer to receive Gabriela's complete meet outfit separately for no cost, and it was sold separately from the doll for some time. She was the first Girl of the Year in several years to not receive a movie, no large items were initially available at launch like had been done since Nicki, and later her "unique" earrings were made available for Tenney Grant when piercing a doll. Comparisons between Gabriela's collection and the character after her, Luciana, show marked contrast in item design and detail.
It has been suspected--though it will likely never be confirmed by the company--that Tenney Grant, who had a larger and more in-depth collection and was released very shortly after Gabriela, was intended to be the 2017 Girl of the Year, but she was instead used to launch the contemporary character line after the last-minute change.
See Also
References