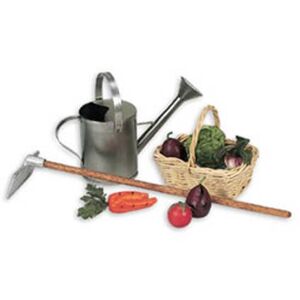 The Gardening Supplies (also known as Addy's Gardening Supplies) was introduced to Addy's Collection in 1994 and retired in 2006. It is associated with the book Addy Saves the Day. Retail cost was $22.
Watering Can
Silver metal watering can.
Hoe
Silver gardening hoe. Wooden handle.
Basket
Woven rectangular basket with handle.
Carrots
Bunch of five carrots.
Cabbage
Cabbage.
Eggplants
Two eggplants.
Tomato
Red tomato with leaves.
Turnip
White and purple turnip.