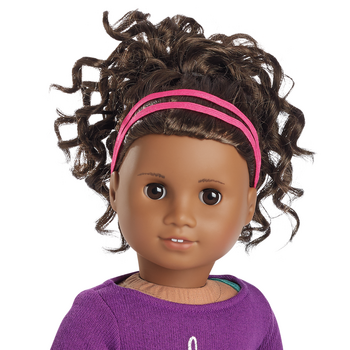 The Gabriela McBride doll was released in 2017 and was available for a little over one year before retirement. She is considered the Girl of the Year for 2017.
Skin: Dark
Hair: Dark brown, curly, side part, middle back length
Eyes: Brown
Meet Outfit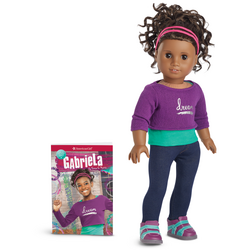 Top
Purple crop top tee. Three-quarter length sleeves. Plain boatneck collar. Silver dream in cursive writing with a paint- swoop underneath. Velcros up the back.
Tank Top
Teal pull on tank top. American Girl logo patch on lower left front (pink writing, teal patch). Stretch edge elastic as straps and as top edge trim.
Panties
Light pink panties. White elastic edging.
Jeggings
Blue denim-simulation stretch knit jeggings. Gold top stitching at ankles, waistband, and false fly design. Elastic waist.
Shoes
Purple and teal ankle shoes. Purple base with teal accents and straps (matching top stitching). White lining. Grey soles and edging; bottom sole is wave textured. Velcroed top teal strap closure.
Double Headband
Two-band magenta stretch elastic headband.
Hairbands
Ten clear elastic hairbands.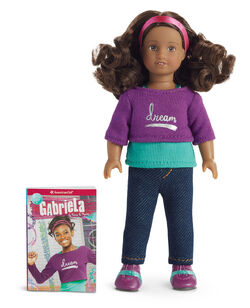 Gabriela's mini doll was not available with her release in January 2017; the mini doll was released by July 2017. Retail cost was $24.99.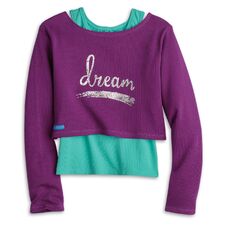 Gabriela McBride's Sweater (based on the tank and crop top) was available for a cost of $42.
Trivia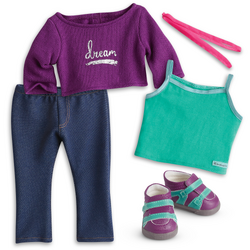 The Gabriela doll is the first doll to be released in a new clear-front packaging that shows the doll fully. The box opens from the top with a slide-out panel; this is designed for shelf displays.
Gabriela's Meet Outfit was available separately for $28 as an online-only purchase (without panties or clear bands). Customers who show record of a purchase of Just Like You 46 within recent years were sent codes to receive the outfit for free, redeemable until March 31st.
Gabriela is the first Girl of the Year to be available for more than a year since Kailey Hopkins.
See Also