"Gabriela" redirects here. For the doll, see Gabriela McBride (doll).
Gabriela McBride is the fifteenth Girl of the Year. She was released in 2017.
In July 2018, American Girl announced that they would archive Gabriela's entire collection; she and her collection eventually became unavailable for purchase. Gabriela's books remained available for purchase.
Personality and Facts
Gabriela is ten year old African American Girl. She is a dancer and poet who lives in Philadelphia, Pennsylvania; she is an only child and lives with her parents, along with her cousin Red who is staying with them while his mom is overseas serving in the military.
She has a stutter, and is using spoken word poetry to help with the situation along with speech therapy. She dances tap, hip-hop, and ballet at her community center, Liberty Arts. She loves poetry, and is very good at writing. She later becomes a member of her school's student council in Gabriela Speaks Out. Gabriela often tries to work hard and impress others, though she can be insecure about her stutter. She doesn't like backing down from her beliefs, and tries to speak from the heart.
In Gabriela (book), she is in fifth grade at Thomas Jefferson Elementary School; in both Gabriela Speaks Out and Gabriela: Time for Change, she is in sixth grade at Kelly Middle School.
Her best friend is Teagan, a computer coder, and she is also friends with Isaiah, a Shakespeare lover. She was frequently antagonized by a fellow classmate named Aaliyah, but eventually befriended her by reaching out and telling her that she liked her confidence; the two of them become co-councilors for the sixth grade at school.
Family, Friends, and Others
See Also: Minor Characters in Gabriela's Stories
Family
Friends and Others
Books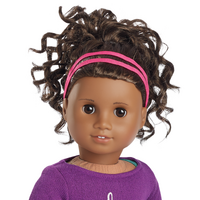 Skin: Dark
Hair: Dark Brown, curly
Eyes: Brown
Collection
Trivia
Gabriela is the first Girl of the Year since Kailey Hopkins to explicitly say that the doll was be available past the end of the year the collection was initially released.
Gabriela was the first Girl of the Year with a stated disability (McKenna was not specified as disabled).
Gabriela was the first Girl of the Year since Kanani Akina to not receive a movie.
Gabriela is the first Black Girl of the Year character, and was the first since Marisol Luna to not be of partial or dominant white background.
References
↑ Gabriela, pg. 112: "Robert?" Mama said. "We weren't expecting all of you to come by."
"I know," Daddy said, sounding as excited as a kid himself.
↑

"Gabriela" page 80: "On June 23, 2017, the power failed..."

↑ Gabriela: Time for Change pg. 2 "but there would be another (spoken word competition) for middle school kids in five weeks..." Five weeks from October 7 is November 11.