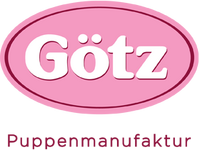 Götz (also known as Goetz or Gotz[1]) is a German-based doll manufacturer and the first designers of the American Girl Doll line under Pleasant Company.
History
Götz was founded in Roedental, Germany, in 1950 by Marianne and Franz Götz. (Roedental is also the hometown of Zapf, another well-known German doll manufacturer.) The first dolls were made of paper mâche by family members and sold directly by Franz Götz.
In 1964, Götz was the first doll manufacturer to produce artist dolls by reproducing originals by well-known Swiss doll artist Sasha Morgenthaler, the Sasha line. In 1987, an American subsidiary of Götz was opened in Baldwinsville, NY; it was later closed in 2004.
In relation to American Girl
Götz was the first designer and manufacturer of the initial release of the American Girl Historical dolls Samantha, Kirsten, and Molly, including in the US factory location, and the designers of the Classic Mold. They continued to manufacture dolls in a limited capacity until approximately the early to mid-90s, when the factories were moved to China. Some older Pleasant Company dolls may be referred to as West German, and some outfits will show 1986 tags.
External links
References
↑

Götz is more commonly used in Germany (the official name of the company was Götz Puppenmanufaktur GmbH) and Goetz or Gotz in the USA (the official name of the US company was Goetz Dolls, Inc.). The German letter ö represents the ligature "oe", so either is correct.
Community content is available under
CC-BY-SA
unless otherwise noted.