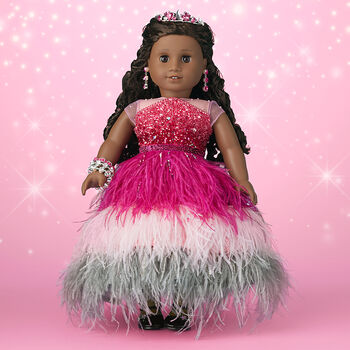 The Fuchsia Feathers Collector Doll (also known as the 2020 American Girl Fuchsia Feathers Collector Doll) is a Truly Me doll and outfit set released in 2020 in partnership with Swarovski.
The one of a kind doll was auctioned off via Bidding For Good, with all proceeds to go to First Responders Children's Foundation. Bidding was from November 17th through the 25th, with bidding starting at $5000 and final sale cost of the doll at $200,000 when bidding concluded.
Doll
The doll is similar to Just Like You 67.
Skin: Dark
Hair: Black, spiral curls, waist length, left side part
Eyes: Brown
Gown
Shoes
Tiara
Earrings
Bracelet
Trivia
Due to the exclusivity of the design, the dress is not removable from the doll.
According to advertising, the outfit took seventy-five hours to design and create and was was completely hand-embellished by Swarovski couturiers with 1,400 multicolored Swarovski crystals and crystal beads.
The doll was placed on display at American Girl Place New York until December 10th.
References
Community content is available under
CC-BY-SA
unless otherwise noted.