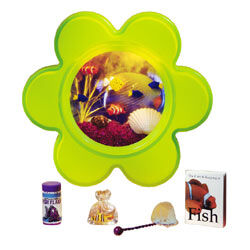 The Friendly Fish set is an American Girl Minis accessory. The set was released in 2002(?) and retired in 2003 with the rest of the line. Retail cost was $24.
Aquarium
Lime green flower-shaped aquarium. Aquarium has magnet and can stick on an Illuma-Room wall. Clear cord connects to outlet and can light up aquarium. Aquarium has pink sparkly gravel, a shell, and several fish. There is a silver faux plant on one side.
There appear to be two variations of this set. The background in the stock photo has a photo of an aquatic scene. A variation exists with a blue and silver glittery background instead.
Bagged Fish
Clear bag with orange tropical fish inside.
Fish Food
Purple bottle of "Fish Flakes" fish food.
Net
Miniature clear net. Purple twisted handle.
Book
"The Care and Keeping of Fish," a book on caring for saltwater fish.