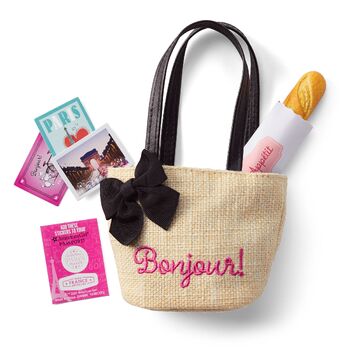 The French Souvenir Set is a Truly Me accessory released in 2020. It is part of the World Traveler Collection and frequently paired with the World Traveler in France. Retail cost is $18.
Tote
Tan burlap-style shoulder tote. Two black vinyl handles and black lining. Front has attached black grosgrain bow and Bonjour! in embroidered pink script.
Baguette
French bread baguette. Golden brown top with cracked stripes and flat base.
Paper Sleeve
White paper bread sleeve. Bon Appétit in red script on pink sign background. Scalloped edge at opening,
Postcards
Three postcards:
Black line image of Eiffel Tower with red lace-edged heart and teal trees on lighter teal background with teal border; back has address lines and orange heart style stamp.
Bonjour from France framing black line bicycle and white poodle dog, with white bows in corners of black frame on pink background; back has address lines and Eiffel Tower style stamp.
Street view of the Arc de Triomphe at twilight; back has address lines and pink bow style stamp.
Stickers
Two passport stickers on sheet: pink circle with Arrival: Paris France and darker pink thin hexagon with American Girl star star logos around Paris France: Departure:. Stickers suggest to be placed in American Girl passport.