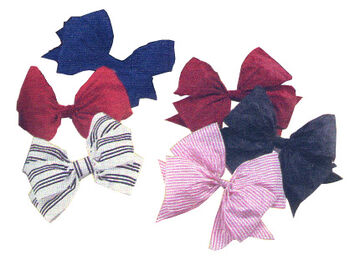 French Hairbows (also referred to as Victorian Hairbows) are a Dress Like Your Doll component tied to Samantha Parkington's collection, released in approximately 1988. Many non-collection colors were available, but retired before the last large ones were finally retired in about 2000. Retail costs were as follows:
Small: $8
Medium: $12
Large: $15
Bows
Hair ribbon bows. Each was made of stiffened ribbon and styled into a four-loop bow which have V-cut ends was attached to a metal hair barrette. Most large bows were intended to match select dresses in Dress Like Your Doll styles from Samantha's Collection. Bows came in three given sizes:
Small: 1.5" wide ribbon, total size 5.5"
Medium: 2" wide ribbon, total size 7.5"
Large: 2.75" wide ribbon, total size 9.5"
Small was also sized for an American Girl doll. Not all colors came in all bow sizes.
When reduced to only large sizes, the ribbon width was increased to 4.5" wide.
Colors Available

Small and Medium:
Peacock Glory (metallic blue)
Golden Glimmer (metallic gold/bronze)
Silver Spangle (metallic silver)
(Pink)
Lilac
Buttercup
 ??? Plaid (Red/Orange)
Picnic Plaid
Confetti Plaid (hot pink/orange plaid)
Fiesta Stripe (white, with/ colored stripes )
Small and Large:
(Orange/White)
Raspberry Ripple
Blue Ice
Cotton Candy
Crispy Crimson
Sweet ??? (color obscured)
Large Only:
All Sizes:
Patriot Stripe (red, white and blue stripes)
Community content is available under
CC-BY-SA
unless otherwise noted.