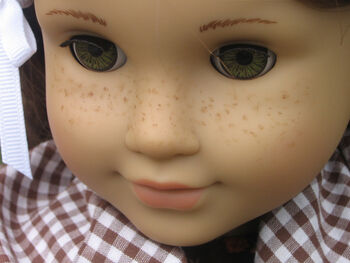 Freckling is a modification to a doll to add freckles to the skin.
How to Freckle a Doll
Freckles are generally added with acrylic paint in light dots with a fine paint brush. These can be across the bridge of the nose, over the cheeks, over the entire face, and/or on the arms and legs. Care must be taken to make the freckles look natural in size and tones. If freckles are added to the main body, paint may bleed into the stuffing; thus, fabric paint is a preferred option.
The same method can be used to add single birthmarks or moles.
Dolls from AG with Freckles
Some dolls have been released with freckles or beauty marks from American Girl. These are:
The line allows purchasers to add freckles to any doll at design.