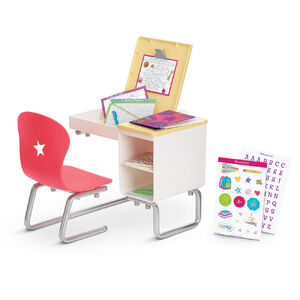 The Flip-Top Desk is a Truly Me furniture set released in 2015. Retail cost is $58.
Desk
White plastic desk with beige flip top lid. Lid has clipboard tab to attach papers. Metal frame with attached chair. Chair is coral pink and has AG star logo cutout in back.
Multiplication Table
Light blue and green times table with AG stars across blue top border.
Schedule
Weekly schedule with purple calendar. Events are filled in and a large AG star outline is in the center of the calendar in light pink.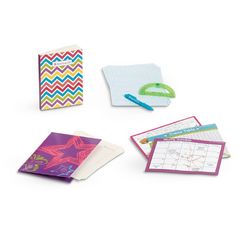 Menu
School lunch menu with calendar of each day's food options. Pictures of food around calendar. Pink border and blue title.
Notebook
Blank notebook with purple spine. Cover has American Girl logo in light pink along with chevron pattern. Chevron colors include red, orange, blue, green, purple, and yellow.
Lined Paper
Three sheets of lined notebook paper with American Girl logo in top right corner.
Graph Paper
Three sheets of blue and white graph paper with American Girl logo in bottom right corner.
Folder
Dark purple folder with large AG star in pink on cover and decorative designs.
Pencil
One plastic faux mechanical pencil in light blue. The American Girl logo is printed on it and it has a white faux eraser on the end.
Protractor
Translucent green protractor with American Girl logo on it.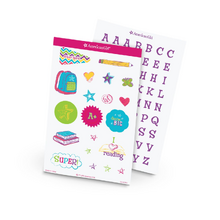 Stickers
Two sheets of stickers. One has purple letters to customize items. The other has various school supplies in magenta, blue, green, and yellow. These include a backpack, books, a pencil, stars, and encouraging phrases like "Super."
Trivia
Community content is available under
CC-BY-SA
unless otherwise noted.