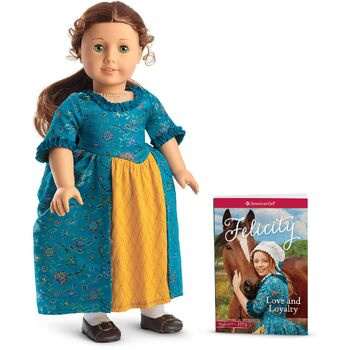 The Felicity Merriman doll was released in Fall 1991 and revamped in 2005. Felicity was officially archived on March 28, 2011, and rereleased in 2017 for the BeForever collection. She was archived again in December 2019. A Special Edition version was released for the 35th anniversary in 2021.
Felicity Doll
Skin: Light
Eyes: Green
Hair: Red, center part, no bangs, three pin curls at the sides
Felicity's hair comes pulled back in a ponytail.
Meet Outfits
Felicity's meet outfit has had three distinctly different versions. She wore the first version from her debut in 1991 until 2005. In 2005 the meet outfit was changed with the revamp of her collection and the release of her movie, Felicity: An American Girl Adventure. She then received a third meet outfit for her BeForever rerelease.
First Meet Outfit
Felicity's original meet outfit from 1991-2005 was an everyday day dress appropriate for a young girl, reflective of the era and more low-key fashion styles. Notably, the dress would have likely been in two separate pieces of top and skirt/"petticoat" at her age, but are connected for simplicity.
Gown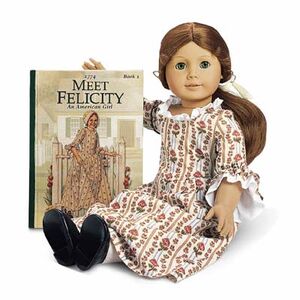 Cream flower-striped print white ankle length dress. Era-accurate blurred rose print; large red roses with muted olive flowers, light blue stripes, and columns of smaller flowers flanked by tan stripes. Low cut neckline with white ruffle. Elbow length sleeves with wide curved ruffles; top ruffle is of print and bottom of white. Curved front waistline with ankle-length skirt is knife-pleated onto the bodice. Skirt has historically accurate slits in the side so that pocket can be accessed. Velcros up the back.
Rose Garden Gown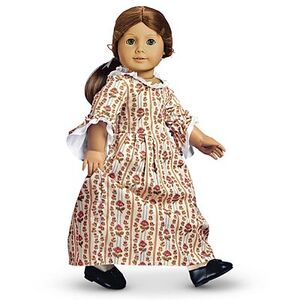 When Felicity's meet outfit was changed in 2005, for a brief time her original meet dress was sold separately as the Rose Garden Gown with the ivory hair ribbon for $22 before being retired.
Shift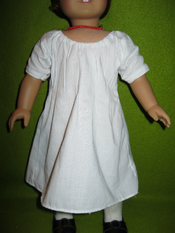 White shift (an all-purpose undergarment). Knee length with a plain hem; short sleeves. Elastic neckline; no shaping or gathering. Is able to be pulled over a doll's head to be put on.
Stockings
Off-white woolen stockings. Come up over the knees.
Shoes
Black colonial style shoes with brass buckles over the front. Black soles. These shoes were single-lasted or straight lasted and had no distinct left or right shoe, allowing the shoes to be placed on either foot.
While catalogs said this allowed colonial people to swap their shoes freely on their feet, this is inaccurate; this was because historically shoemakers only used a single straight last (shoe mold) for most shoes not made for the wealthy rather than making separate left and right (or "crooked"); generally after some degree of wear the shoe would mold itself to the wearer's foot and thus distinguish themselves to left and right.
Hair Ribbon
22" ivory colored satin ribbon with V-cut ends.
Second Meet Outfit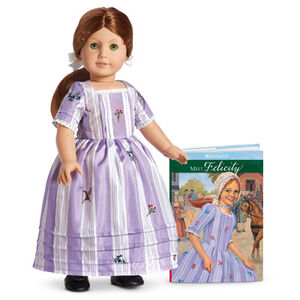 Felicity's meet outfit was changed in 2005 with her revamped collection and the release of the Elizabeth Cole doll and remained her meet set until 2011 when she was archived.
Traveling Gown
Felicity's Traveling Gown became the new meet outfit.
Shift
The white shift was modified to have a fixed-band neckline and velcro up the back for better fit under dresses.
Stockings
The off-white stockings were now made with knit fabric.
Shoes
Black colonial style shoes with brass buckles over the front and black soles. The shoes are mostly similar to the first edition, except that they are now shaped to fit each foot individually.
Hair Ribbon
Changed to a white satin ribbon with V cut ends; about 18" in length.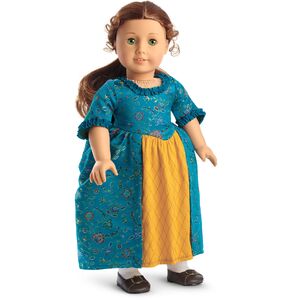 The BeForever Outfit for Felicity was released in 2017 and was available alone for $36.
Notably, this is the only set that does not come with a shift (as it was sold separately in Felicity's Undergarments) or any hair ribbon, and is intended to represent more of a overdress gown and visible underpetticoat/skirt.
Dress
Blue and yellow brocade gown. Main part of dress is blue "silk" brocade with designs of flowers, vines, and buds woven in various red and yellows; this makes up the bodice and most of the skirt. Low neckline; elbow length set-in sleeves that are slightly longer in back at hem by shaping. Neckline and sleeves trimmed with teal blue runched ribbon. Bodice comes down to point in front. Gathered main skirt that is drawn up in back; under the back side skirt are two ribbons tacked to "runch" the back of the skirt. Front of skirt has "petticoat" panel of yellow cotton with diamond "quilting" in gold. Velcros up the back.
Stockings
White knee-high stockings. Elastic at top. These are slightly thinner than prior socks.
Shoes
Brown colonial style shoes. Gold brass buckles over the front. Black soles.
Meet Accessories
First Meet Accessories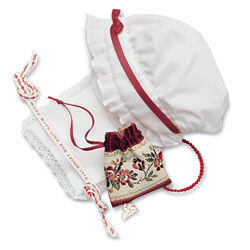 Coral Necklace
A string of coral beads. It is described in Lady Margaret's Ghost as Mother's necklace when she was a child, and Felicity says she wears it when she needs good luck.
Round-Eared Cap
White round-eared cap. Ruffled at edge and elastic in back. Embellished with a thin dark coral ribbon.
Garters
Thin white ribbons of 12 3/4" long and 1/4" with red embroidery of dots, lines and text; the text reads in caps, "Wove with love for Lissie 1774." These tie around her stockings to simulate actual garters needed to hold up stockings. They come with a card with the following text:
Mrs. Merriman wove these garters for Felicity. Tie them in a pretty bow around her stockings just above her knees.
Despite the text, the garters can be accurately worn both above and below the knee.
Bit
A replica of a colonial bit, worth 12.5 cents. It comes on a card to hold it; the card discusses how it was made (cutting a Spanish dollare (or more accurately, dólar,) into eight pieces), how it was the most popular coin in Virginia, and how later the dollare led to the name of the American dollar.
Handkerchief
A 3" hankerchief; square of white cotton trimmed with lace.
Drawstring Purse
A red and brocade purse with a ribbon drawstring top. Brocade has a floral pattern.
Second Meet Accessories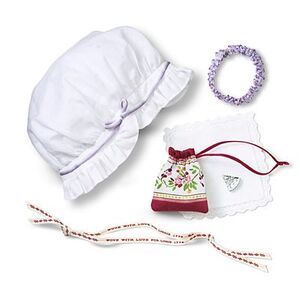 Only two items in the accessories were changed to match the Traveling Gown; the rest remained the same.
Mob Cap
The lavender-ribbon mob cap that came with the Traveling Gown replaced the dark coral ribbon round-eared cap.
Floral Choker
The choker that came with the Traveling Gown replaced the coral necklace.
BeForever Meet Accessories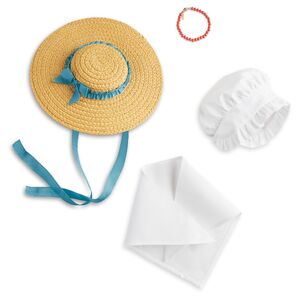 Hat
Straw wide-brimmed bergère hat. Shallow crown. Crown is trimmed around with gathered teal ribbon and bow on right side. Attached teal ribbons underneath to tie on hat.
Cap
White round eared cap. Ruffle at edge, and elastic at back. Differs from prior hats as there is no ribbon trim.
Necklace
Plastic coral-beaded necklace. Gold heart-clasp in back to close.
Fichu
White triangular "fichu" scarf.
35th Anniversary Edition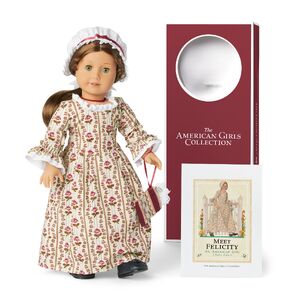 For American Girl's 35th Anniversary, Felicity was rereleased as a limited edition bundle. She was released in early May 2021 and sold out by the end of June. The bundle includes the doll in the Rose Garden Gown with thin eyebrows, first edition meet accessories, the first edition parchment style of Meet Felicity, and an older-style box (modified with visibility window) for a total cost of $150.
Unlike standard dolls sold at this time, Felicity has neck strings. Her eyes are closer to the original Pleasant Company green shade rather than the brighter 2005 second edition green or darker BeForever green. Notably, the sleeves on the Rose Garden Gown are modified and are now three-quarter length with even length ruffles around instead of elbow length with high-and-low style ruffles, and the socks are woolen.
One of a Kind Edition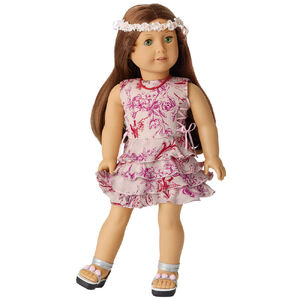 A one-of a kind Felicity, designed by Carly Cushie, was auctioned from September 23 to 26th, with all proceeds donated to Girls Who Code. The auction initial starting price was $300 and final auction price was $1,600.00.
The doll was dressed in a pink and purple floral side-laced dress, her meet coral necklace, a ivory flower crown and the shoes from the Dot to Dot Dress.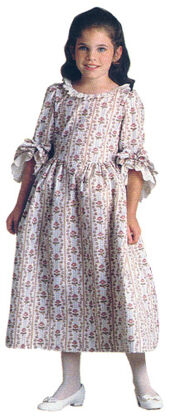 Felicity's first meet outfit was available as the Rose Garden Dress for $80. The child-sized coral necklace was available as the Coral Necklace or Felicity's Coral Necklace. Retail cost was $30 and decreased to $28. Both items were phased out around 2000.
The dress is cotton and came with sewn-in panniers.
Mattel Felicity dolls have darker auburn red hair as opposed to the "carrot red" of the PC dolls.
PC Felicity dolls have muted green eyes; Mattel Felicity dolls have brighter green eyes.
PC Felicity dolls have soft red eyelashes; Mattel Felicity dolls (including BeForever) have standard black eyelashes.
BeForever Felicity dolls have darker green eyes than the bright Mattel dolls. The 35th anniversary eyes are closer to the original PC green shade.
Older versions of Felicity (and the 35th anniversary edition) have straight-line eyebrows. The BeForever Felicity's eyebrows are feathered.
Trivia
Felicity's low cut outfits resulted in the body fabric of the first three dolls being changed from white to skin-colored.
While the American Girl site referred to the round-eared caps as mob caps, they are still properly called round-eared caps; there was a distinct difference in the designs during the colonial era.
When Kaya debuted in 2002, Felicity was pulled from the catalogs with a note saying that she would now be an online exclusive. During this time several of her items and outfits were retired. She was not revamped until the release of her movie and the Elizabeth Cole doll.
Felicity was the first Historical Character to have two distinctly different meet outfits before the launch of BeForever, and so far the only character to be released in three distinct ones.
Felicity was available for a limited time to celebrate the opening of American Girl Washington DC in 2011 during her archival.
Felicity was included in promotional materials for the relaunch of the historical line in October 2019, and she received a new character logo along with the rest of the characters.
Felicity was quietly archived for a second time in early December 2019. American Girl did not announce her retirement as with earlier archives. Her doll disappeared from the site and the company confirmed her archival through a comment on Facebook, which read: "We will be adding Felicity back to our lineup of archived characters and look forward to the next time we may reintroduce her to fans as we did in 2017." Dolls in stores were sold by the end of December. Her mini doll and books remain available.