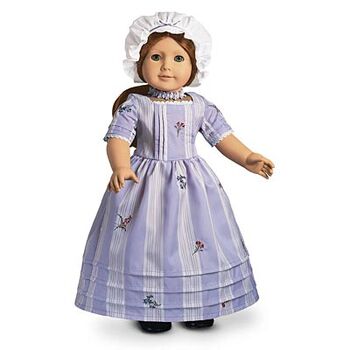 Felicity's Traveling Gown was Felicity's second meet outfit. Originally a Short Story outfit and part of Felicity's Collection, it was first released in 1999 to complement the short story Felicity's New Sister. Retail cost was $22.
It stopped being independently available in 2005 when it was made into Felicity's second meet outfit.
Gown
Lavender taffeta gown (simulating silk) with white vertical stripes. Blue and red embroidered flowers. Elbow length sleeves. Decorative tucks on the bodice, sleeves, and skirt hem. Velcros up the back and has side slits in the skirt for pocket access.
Mob Cap
White mob cap. Light lavender and white ribbon trim.
Choker
Lavender and white ribbon choker to resemble flowers. Elastic is in the choker to allow it to stretch. Fastens with a hook and eye at the back.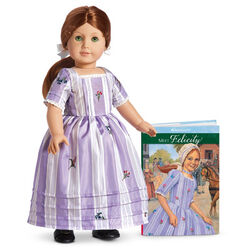 In 2005 with the revamp of Felicity's Collection, the outfit was changed into Felicity's meet outfit; the meet accessories changed to include the choker and cap that had come with the dress. It remained her meet outfit until she was retired in 2011 and was later replaced with the third, BeForever designed meet outfit.