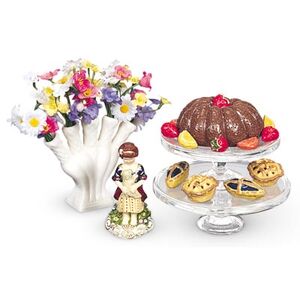 Felicity's Party Treats
was introduced to
Felicity's Collection
in
1992
and
retired
in
2005
. It is associated with
Happy Birthday, Felicity!
. Retail cost was
$28
.
Salvers
Two separate round, glass serving platters with bases; bottom salver is larger than top salver.
Cake
Traditional European cake known as a "bundt" cake for its ring-shaped style of cake pan mold. Cake is brown chocolate with faux sugar sprinkles on top.
Strawberries
Five faux marzipan strawberries.
Lemon Slices
Two pretend candied lemon slices.
Orange Slices
Two pretend candied orange slices.
Tarts
Four open-crusted fruit tarts. Two of the tarts are round with red filling and lattice crusts. The other two tarts are oval shaped and have purple filling; over the filling are two strips of crust (one horizontal and one vertical) that intersect in the middle.
Flowers
Bouquet of white, pink, purple, and yellow flowers.
Vase
White, porcelain, five-fingered quintal flower vase. Main body and each tubular-hole "finger" have decorative etching and patterning to them.
Figurine
Hand-painted figurine of girl looking down while holding a lamb; see "TRIVIA" section below for difference in two variations of figurine.
Trivia
There were two variations of the figurine: one featured dark brown hair and the other featured light brown hair.
The dark brown haired figurine had dots going down the dress, and the light-brown haired figurine had stripes.
The lamb that the figurines hold were different sizes: the dark-haired figurine had a smaller lamb than the light-haired one.
The base for the figurines were different: the dark-haired figurine's base was an off-white cream color and featured less scrollwork than the light-haired figurine's base, and the light-haired figurine's base was also more white.
Community content is available under
CC-BY-SA
unless otherwise noted.