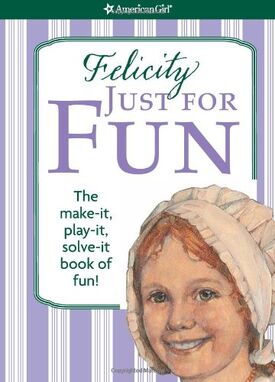 Felicity's Just For Fun was a Just For Fun book that focused on Felicity Merriman.
Book Contents
Things to Make
Hanging Hearts
Draw Penny
Bookmarks
Decorate the Parlor
Draw Posie
Paper Quilting
Make a Storage Box
Bake Queen Cakes
Colonial Stencils
Make Marbles
Games to Play
Step into Felicity's Story
Hello, Sir! Hello, Miss!
Williamsburg Word Race
Felicity Concentration
Colonial Charades
Language of the Fan
Memory Game
Ballroom Board Game
For Two to Do
Puzzles to Solve
Sticker Sudoku
Independence Scramble
A Stitch in Time
King's Creek Maze
Merriman's Store
The Governor's Ball
Tea Service
The Milliner's Shop
A Secret Friend
Name Game
Two Birthdays
Sweet Treats Crisscross
Pick a Posie
Folding Puzzle
Stable Scramble
See Also
Community content is available under
CC-BY-SA
unless otherwise noted.