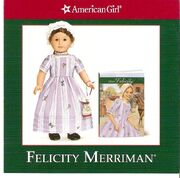 This is a list of all the items that were available for Felicity Merriman in her Historical Collection and BeForever release. As of December 2019, the entire collection is archived with the exception of the books and mini doll.
From March 2011 to February 2017 the entire collection was archived with the exception of her books, movie, and mini-doll. Items available before her archival in March 2011 are separated from her BeForever re-release. Any items that were modified or rereleased will be discussed on their article pages.
Doll and Meet Accessories
With BeForever, Felicity comes with a copy of Love and Loyalty.
Felicity could come with a paperback or hardback copy of Meet Felicity, or a hardcover or paperback set of all six books.
A Special Edition 35th Anniversary rereleased with Meet Felicity in the parchment style came out in 2021.
Historical Collection
The Summer Dress and Straw Hat and Slippers were combined and rereleased as this in 2005.
Also called Pleasant Dreams, Felicity! and Sweet Dreams, Felicity!
Extra Items and Outfits
Extra Outfits
Extra Items
From the Movie
Crafts
Books
See also