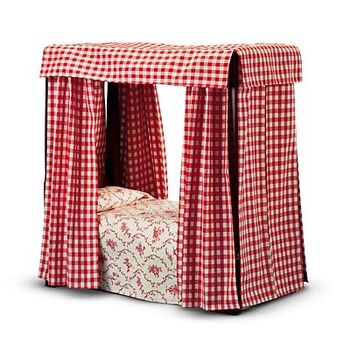 Felicity's Bed and Bedding (also known as the Tall-Post Bed with Tester) was introduced to Felicity's Collection in 1991 and retired in 2011 with Felicity's archival. Retail price was originally $98; it later increased to $108.
Bed
Dark brown wooden bed frame. Tall square posts at corners with rounded edges. Upper frame is removable to allow easy curtain installation. Slightly curved wooden headboard. Requires some assembly when delivered.
Mattress
Simple off-white tufted mattress.
Pillow
Rectangular pillow covered with red-on-off-white toile print fabric. "Pillowcase" extends beyond edges of pillow to simulate a tucked-in bedspread when pillow is laid on bed.
Blanket
Red-on-off-white toile print bedspread. Notched corners to fit around bedposts at foot of bed. When bed is made up, bedspread hem reaches the floor.
Tester
Red-and-white gingham tester (bed canopy). Notched corners to hang smoothly over tops of bedposts. This piece is rather lightweight and can slide off during careless play.
Curtains
Two wide pairs and two narrow pairs of red-and-white gingham curtains. These can slide along the frame's built-in curtain rods to enclose or reveal the bed; when set up they reach almost to the floor.
Trivia
Starting in 2007, the bedding was also sold separately as Felicity's Bedding. Retail cost was $32. It was specifically advertised as fitting either Felicity's or Elizabeth's bed as both bedframes were the same and thus users could switch out the bedding for either character without having to buy an additional bed frame. This option retired in 2009.