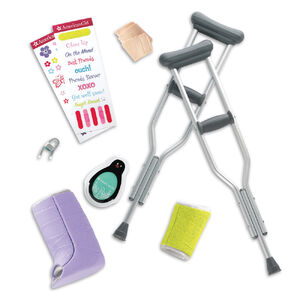 The Feel-Better Kit is an American Girl of Today accessory released in 2005. Retail cost is $30.
Crutches
Two metal crutches.
Arm Cast
Fleeced-lined green arm cast.
Leg Cast
Periwinkle leg cast. Cast has molded cast bandage patterns on outside and white fleece inside.
Wrap Bandage
Beige wrap bandage.
Finger Splint
Ice Pack
Penguin-shaped ice pack. Black penguin with teal stomach. "Ice Pack" in curly font with white American Girl logo. Ice pack is flexible plastic.
Stickers
Sheet of flower and butterfly stickers.
Bandage Stickers
Pink and red bandage reusable stickers. This sheet also has get well messages in different colors and fonts. This sheet of stickers has transparent edges so messages look as if they are written directly on the cast.
Tip Sheet
Trivia