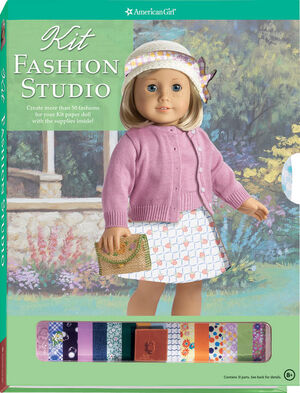 Fashion Studios were a series of activity books for specific Historical Characters, focused on historical clothing and fashion design with an included paper doll.
Contents
Fashion Studios contained an opening book portfolio with an embedded color wheel. Inside was a design and instruction book, a logo stamp, a paper doll designed to look like the doll in her underclothing and a paper stand, sticky tabs to attach clothing to the paper doll, several pages of stencils, two pages of uncolored stickers for shoes and small trims, and twenty double sided papers for clothes design. (While there is a cover sheet that shows multiple papers, it is not a decor sheet.) A few pages will simulate designs from clothing found in the character's collection (such as Felicity's Meet Dress.)
The instruction booklet lists the contents (and additional supplies such as scissors and pencils), and how to use the stencils to create and put together clothing items. There is also brief data on color theory, pattern matching, and using the stamp. The rest of the pages show clothing designs; many are based on outfits that were sold for the character.
Small facts on clothing wear and design of the time are included among the pages.
Fashion Design Portfolio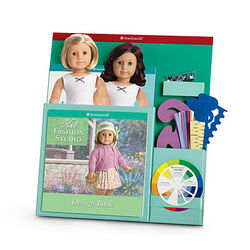 For a brief period at Costco warehouse stores and through American Girl, Fashion Design Portfolios were available. Felicity and Samantha were not included.
A portfolio was much larger with a tri-fold storage space and a removable stand with various pockets for supplies. While Fashion Design Portfolios contained all the accessories of the standard sets, additional items were included. These included ten more double sided papers, eight tissue pages, four small metallic papers, a page of pre-colored trim and shoes stickers, three scalloped and patterned edging stencils, a curve stencil, a paper ruler, a pack of paper ribbon trim, a package of faux gems, a Design Sketch pad, and an additional paper doll based on the character's Best Friend. [1] Because of the design, the color wheel was a separate component and the design book was not spiral bound.
Fashion Studios
Gallery of Covers
See Also
References
↑ This resulted in a design of Ana Rubin as a doll with center parted light brown hair, the Classic Mold and brown eyes.